Another installment in an occasional series on the most interesting and influential women in the global cycling industry.
With her brilliant graphic design for the the Rapha RCC x Allied Able bike earlier this year, Jess put the industry on notice that she's one to watch.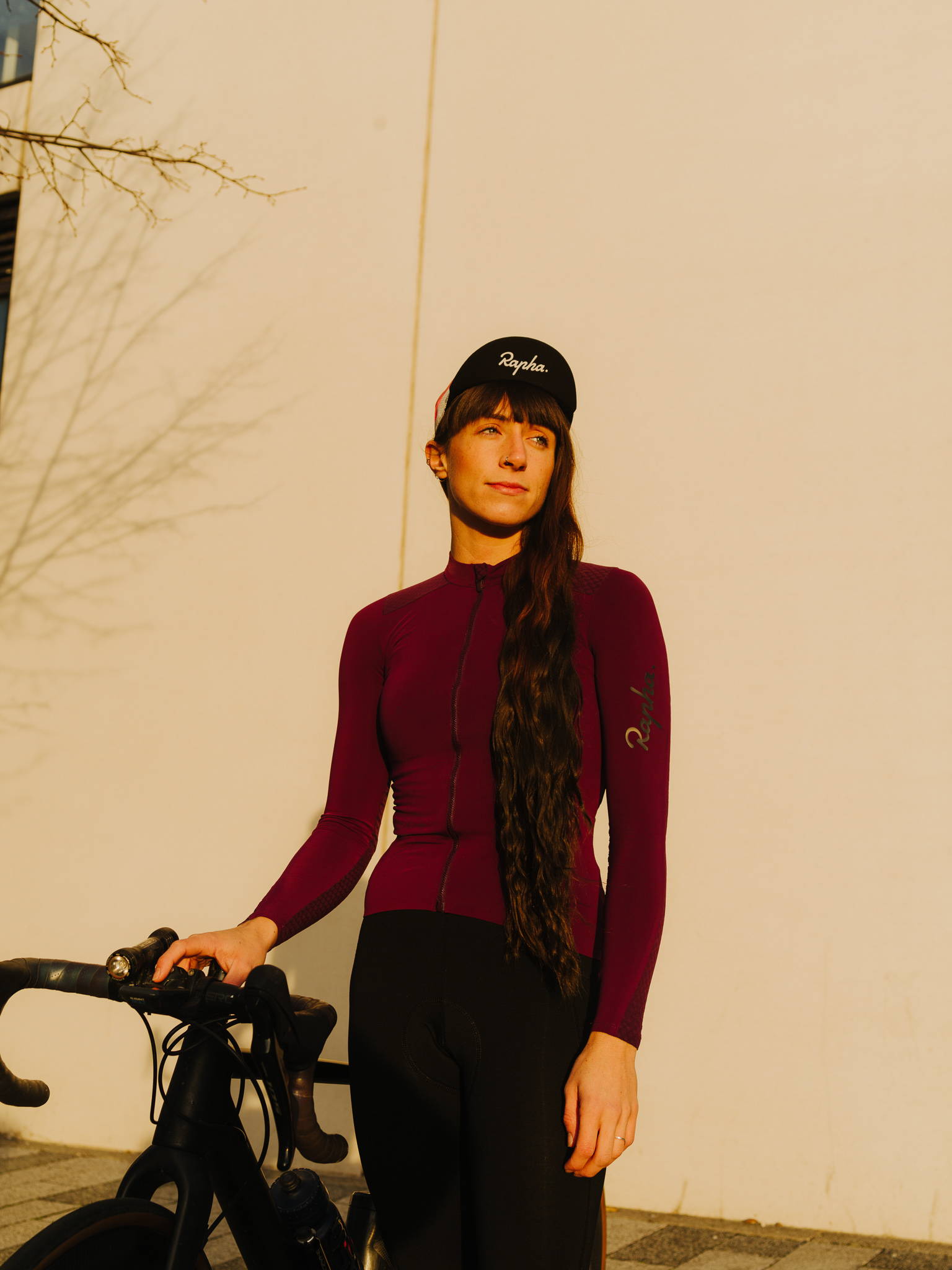 Jess, can you tell us about yourself? What is your job, what sort of work do you do, and how did you train to get there? And on a personal level – tell us about your life growing up.
I live in South London with my partner, sausage dog and hand-built campervan.
Growing up I spent all my time in nature, painting trees (literally, the trees), rescuing animals and watching clouds. My dad's an incredibly practical man who did a good job instilling a lot of that in me from an early age. He would teach me to rewire plugs, chop wood and have a go at fixing just about anything. All that definitely helped me later in life.
Diversity would be the way I'd sum up my creative experiences to date. Even though I trained in illustration, I've done everything from embroidery design to prop making. I remember one of my jobs straight out of university was making a pink glitter speedsuit for an ice-skating ballet. The next week I was working on a stop motion animation.
All of that variety has built up a broad, adaptive style. I used to think that was a failure as an artist, but as a professional, it's been great to be able to act as a blank slate for the people I work for and bring their ideas to life.
Being a Graphic Designer for Rapha Custom I get to do a wide range of projects. My main role is to manage all design output for Custom's bespoke service, where we work directly with clients to build out a design concept and create an entirely unique kit for them. The timelines are short and the briefs are as varied as the customers, so every day is different and I'm continually pushing my creative boundaries.
The other part of my role is creating a database of prints, patterns, colors and features for Rapha's Custom Online tool, which allows customers to design their own kit on the Rapha website.
On top of that, I'm also lucky enough to work on lots of Special Editions and collaboration projects like with yourself and Colin Strickland, as well as some exciting new launches to come with Outdoor Voices and Geoff McFetridge.
We got to know you through your work designing the Rapha RCC Edition Allied Able – one of the most astonishing bike designs any of us has ever seen at Allied. What was your inspiration for the design, and how did you arrive at the visual language you used?
Designing a bike frame was a first for me, so I'm honored to have had the opportunity.
When I was designing the bike, I really focused on Colin as a character. He's a real hitter with a lot of Texan charm so I wanted to make a kit that felt as unique as him. He had a great vision from the off and a really specific brief inspired by geology and native American culture which really resonated with me. With my own family being from Texas I could call on some of my childhood memories and favorite heritage art pieces. So it was a dream project. I spent a lot of time researching the terrain the bike would be ridden on. I wanted it to look like the bike had been carved out of the landscape.
Using colors from the kit we went with a rich deep green on the base and placed print to highlight unique features of the bike, like the asymmetric chain stay. Sam and his team did an incredible job placing the detailed print in pretty tricky places (sorry Sam), the end result with the fade to burnt orange really pops. I was sure to maintain our classic RCC touchpoints, so that even though the result is something we've never done before it still feels recognizably Rapha.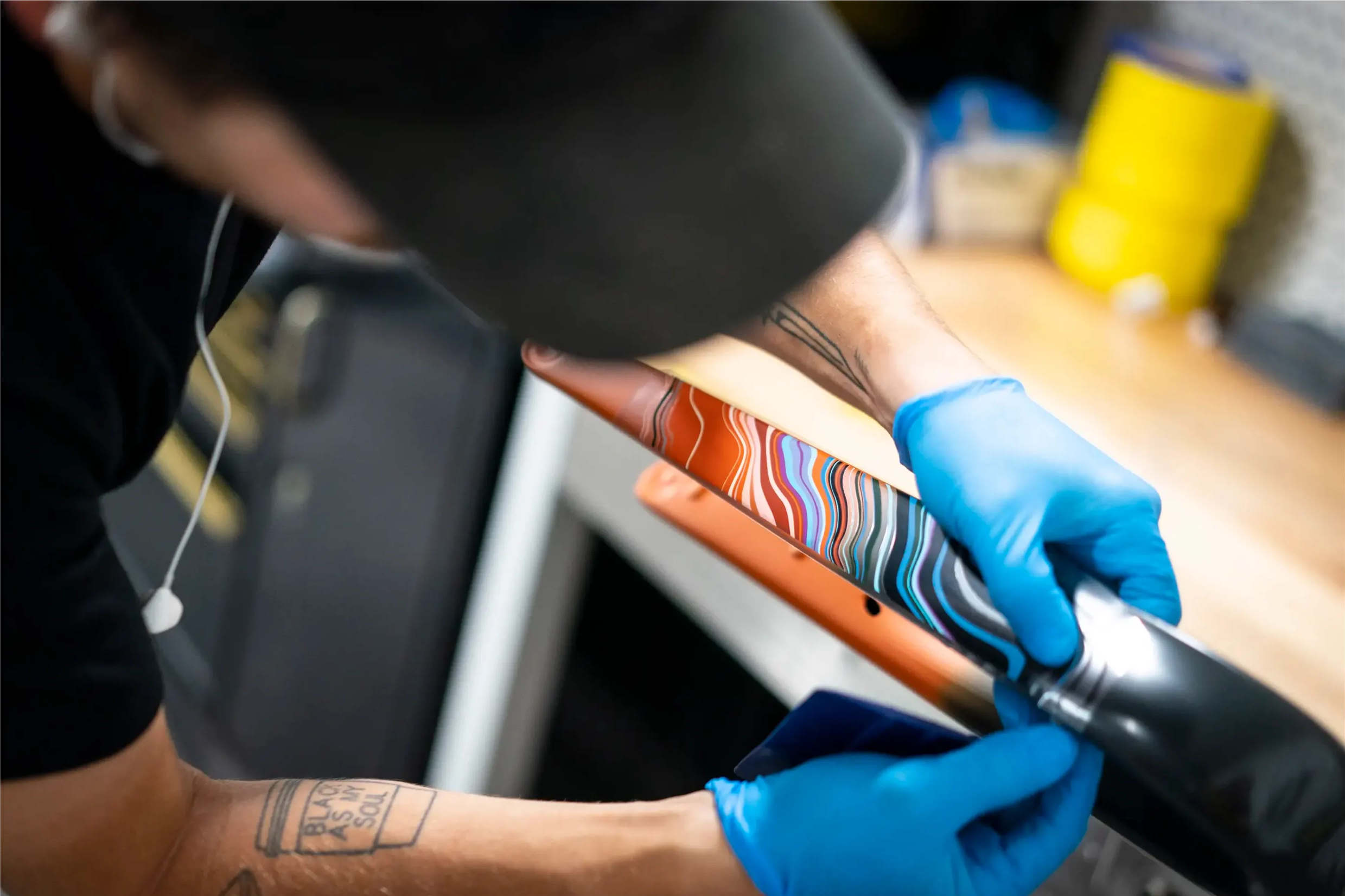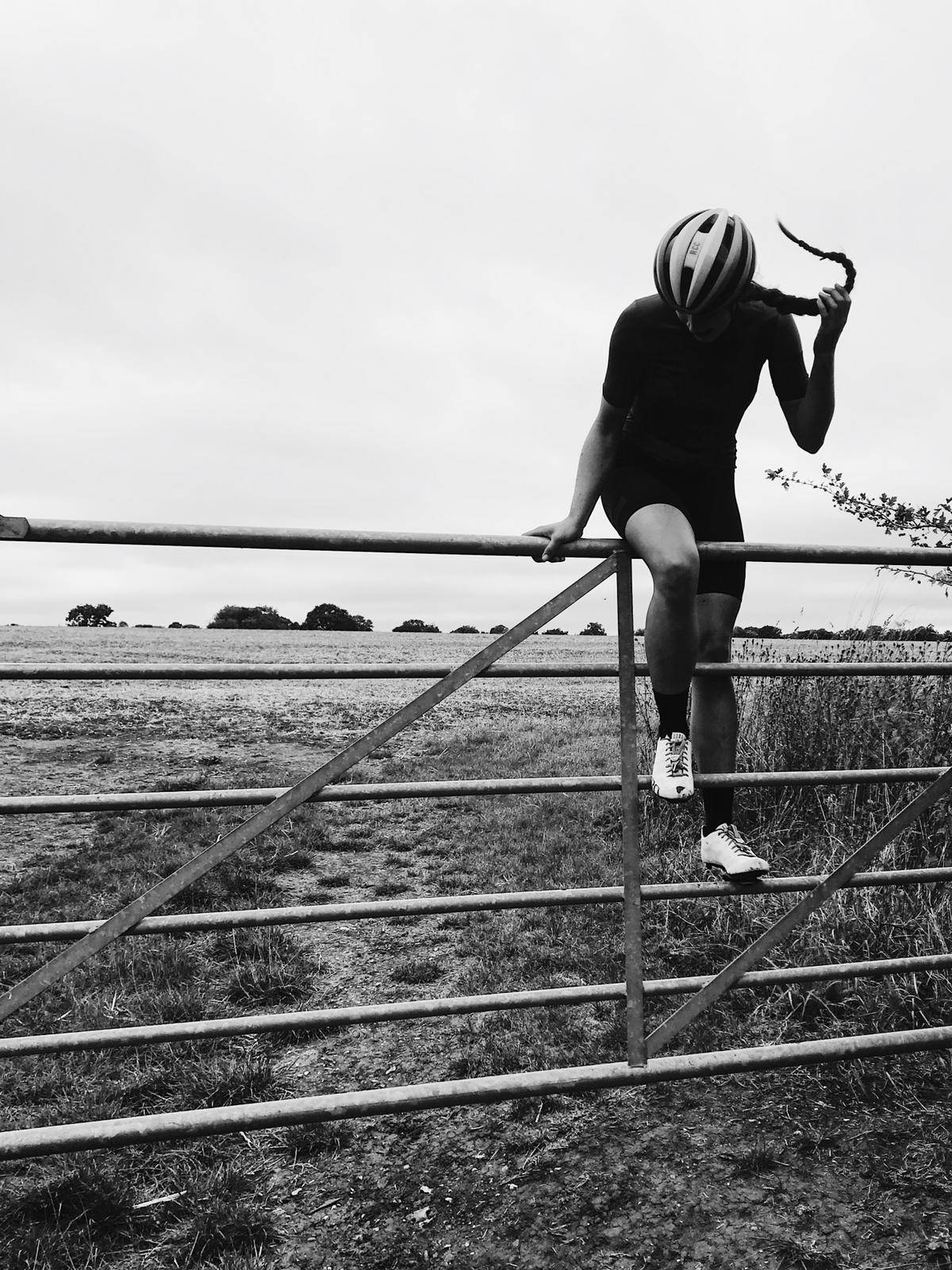 How would you evaluate the state of design in the cycling industry? I have to resist a reflexive effort to say "It's shit." What do you think? Are there brands (besides Rapha!) that get it right? Are there things we should appreciate more in the market?
It's a totally different market to the usual fashion or sportswear trends, where trends trickle down from a seasonal catwalk and become diluted for the high street.
From what I see, much of cycling apparel seems too inspired by technical ability, rather than a cultural trend, or moment in time. Things like fades, color blocking, geometric prints etc. couldn't be done that well 5 or so years ago. So when it becomes available, everyone jumps on it. That's why so many brands feel the same.
Because of that, there's definitely space to offer something completely different, something that disrupts the market. I'm always thinking about the blank spaces, the ideas that haven't been explored yet. That's one of the best things about working for Rapha. As leaders we're not looking to copy anyone, we put pressure on ourselves to find new ways of doing things and that excites me.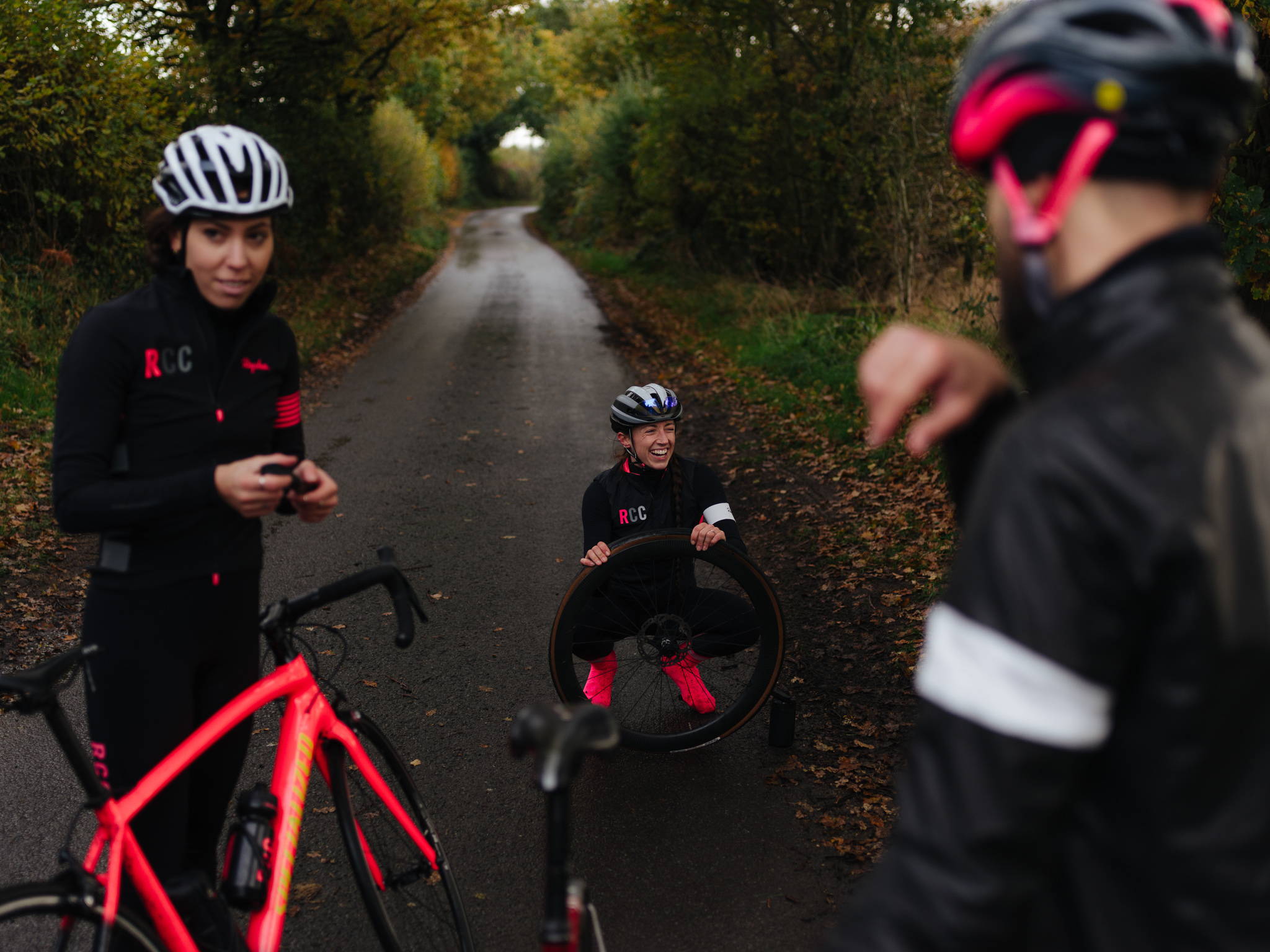 When not inconvenienced by a global pandemic – how do you commute to the office? Is it by bike, and what is the journey like?
I started commuting by bike when I worked as a freelancer years ago, on my single speed named Rusty. I've always lived in South London and disliked hot trains and cramped buses so having a bike and the freedom to roam, I quickly gained in confidence and never looked back.
Although it wasn't until I joined Rapha that I got "into cycling". I met some truly inspiring women who introduced me to correct sock length and pushed me do big rides. Not long after I was trying to keep up with hitters in the office on my hand-painted vintage steel frame. Now a fully-fledged Carbon Frame, deep section, gum-wall toting gal, I often mix in commuting with fast laps of the park or hills, so it's hard to imagine commuting any other way.
What was your favorite ride from the last year, and why?
I rode from London to Brighton and back a few months ago with some friends from work and it was so much fun! It was the longest ride I had done in a while and a very hilly route, but when you have great company and good weather it flies by. Not to mention a tail wind and a cheeky pint on the way home helps.
Back to design for a second… What is a book or two we should read if we want to get smarter about design? Are there a couple of design websites you keep bookmarked that might be useful?
For me getting smarter about design, is more about getting smarter at solving problems. I love books that challenge your way of thinking and perceiving the world…I really struggle with fiction and am usually reading up on woodwork textbooks or FBI negotiation tactics.
As design is so subjective it's hard to suggest one thing to read and it's more something you explore and build on. Everyone is creative, whether it's through creative problem solving, data management, understanding people, the world or creating beautiful things. So any book that asks hard questions and makes you think will make you a smarter designer.
Rapha was founded on the principle of Duris ex Gloria – "Glory Through Suffering." Have you experienced that? On the bike? In the world of design? What does that phrase mean to you?
To me Glory Through Suffering means, you get out what you put in. You work hard for your craft and you become better. Whilst suffering is a pretty strong word, the sentiment remains: perseverance through hardship creates character; it proves to yourself you're capable of more than you thought.
I have experienced this on the bike and in other sports like Boxing. Coming home with a black eye but still showing up again the next day. You learn to wear it like a badge of honor, proving to yourself that you can take what the world throws at you….it's also a great life lesson on moving your head more!
Looking beyond the cycling industry, what brands inspire you the most from a design perspective, and why?
To create something new you've got to be looking for original source inspiration, so I tend not to follow others too closely and look to more abstract things like fine art, sculpture, vintage album covers, even nature. I also look a lot at interior designers and the way they have to use mixed mediums and balance colors. It's definitely transferable to clothing.
A brand that I personally love is Story MFG. Mainly because all their pieces have such lovely natural textures. That's hard to find these days. They cater for the Luxury Hippy in me, with all organic plant dyed and handmade pieces.
What's on heavy rotation in your Spotify playlist?
I'm all about the discover weekly these days! I have a really eclectic music taste, so it really depends on my mood and what I'm doing, but these songs are keeping me going at the moment:
Lee Dorsey - Everything I Do Gohn Be Funky
Frank Sinatra – That's Life
Ray X Ben – Be Someone
Angie Stone – Wish I Didn't Miss You
Once the world returns to normal, what's your dream cycling adventure?
I had a few big rides planned this year, but sometimes change is inescapable. Slowing down turned out to be what I needed…
One adventure I had planned was the Bryan Chapman Memorial Ride. A 600km audax across Wales and back with 8,000 meters of climbing. With a time cut off of just under two days, it's a bit of a beast. This period has made me want to slow down and enjoy things more, so my new plan is to split up the route across 4 days and bike-pack/bivi the whole thing with a best mate instead. What's more fun than getting lost in Wales and sleeping in fields with friends!
My other dream adventure is to ride from LA to Vancouver with my partner to see my sister. American is a second home to me, so spending a week (or 2?!) exploring the woods, coastline and beaches by bike with some family to welcome us at the other end sounds pretty dreamy.
---