Allied Cycle Works might not be as widely known as some other brands in this definitely-not-a-shootout group test, but they've actually been manufacturing carbon frames in their Northwest Arkansas factory since 2016. The 120mm-travel BC40 is their first mountain bike, though, and they're saying that the new 29er, ''blends XC Race with Downcountry abilities.''
There are a bunch of paint and price options to choose from, with the starting point being the XT-equipped version that costs $7,250 USD or a frame/shock/fork kit for $5,590 USD. Our test bike is spec'd with a wireless X01 AXS drivetrain, carbon Industry Nine wheels, Factory-level Fox suspension, and a $10,755 USD price tag.
Not only does Allied cook up and paint the carbon frame themselves, but they machine all of the aluminum components like the suspension linkage as well. It's light, too, as you'd expect for a bike meant for some serious cross-country-ing; the frame is said to weigh just 1,950-grams. The checklist includes cables inside the frame (including the optional shock lock-out), a threaded bottom bracket, a replaceable rear brake mount and, notable on a bike intended for long, difficult races, room for a large bottle on the downtube and a smaller one on the seat tube.
The bike sounds unapologetically focused on racing and efficiency, with Allied saying that the frame employs a "second-to-none pedaling platform," and naming events like the lung-deflating Leadville 100 and the Marathon Nationals that are said to suit the BC40's personality. The suspension layout is similar to what we see many weight-conscious designs using: a relatively simple single-pivot system with an aluminum rocker for lateral rigidity and to achieve the desired kinematics, and the all-important flex-pivot at the dropout to save weight. Sealed bearings and pivot bolts are heavy compared to bendy pieces of carbon fiber, and some brands claim to save up to 200-grams by using a flex-pivot, so it's no surprise to see it on another speedy bike.

Given that many BC40s are likely to wind up at cross-country races of some kind on the weekends, while others could see rowdier terrain than they bargained for, Allied couldn't go too slack or too aggressive with the handling. They settled on a 66.5-degree front-end that makes a lot of sense, as well as a 76-degree seat angle and 435mm-chainstays on all four sizes. Our medium gets a 445mm reach, and it tops out at 501mm for an extra-large.

All of the above adds up to a respectable 24.9 lb / 11.2 kg after we installed the Specialized Ground Control tires that we put on all six of our test bikes.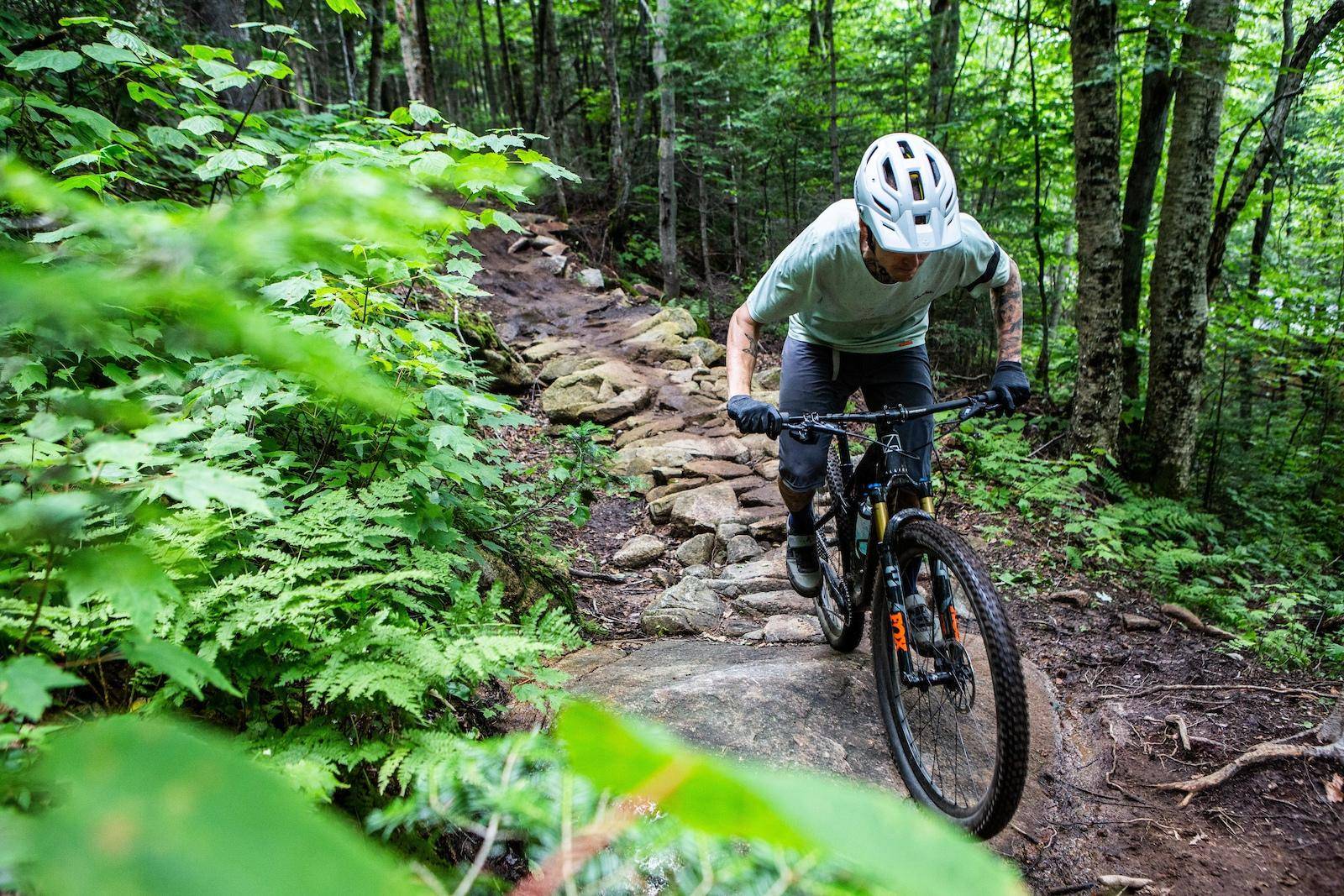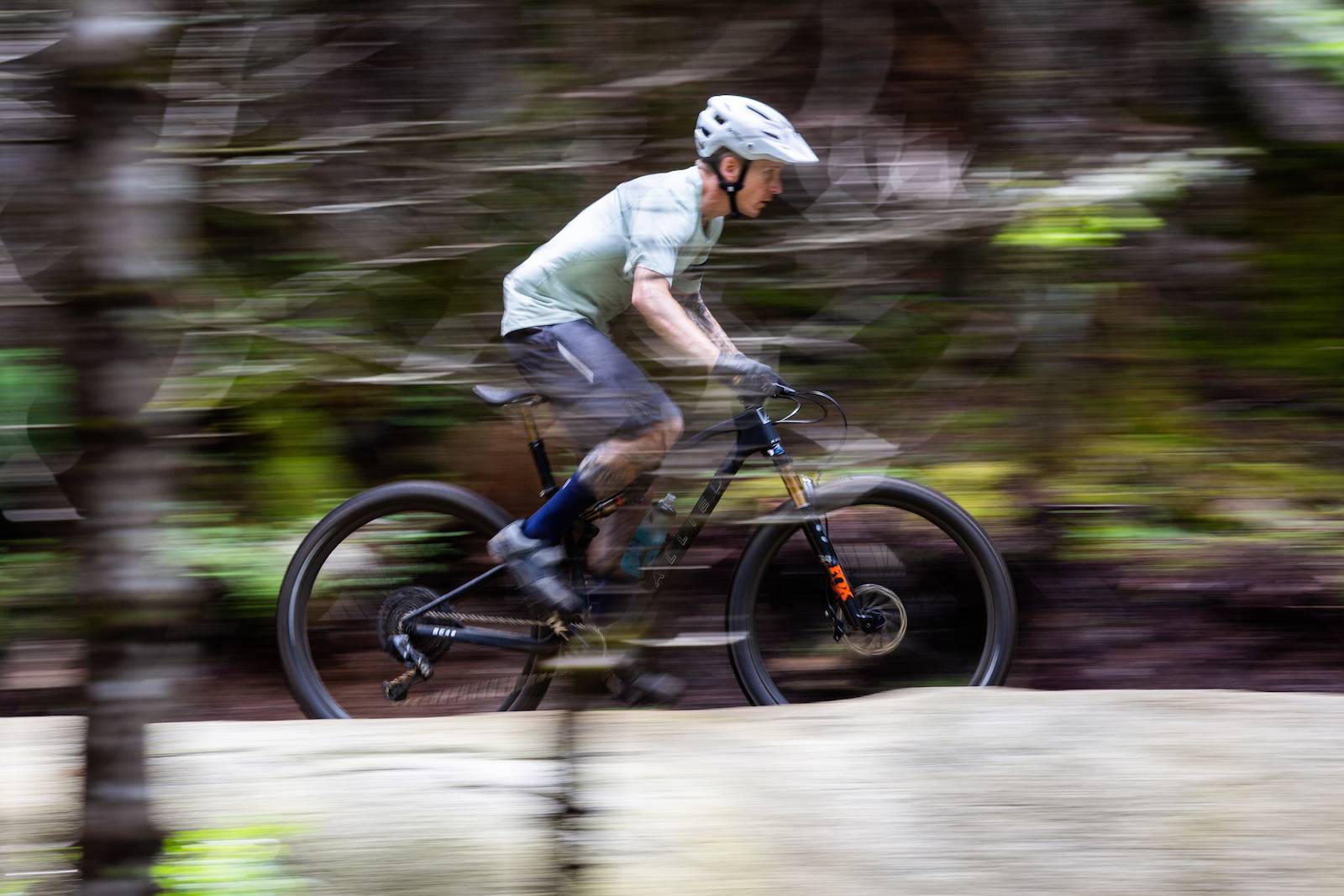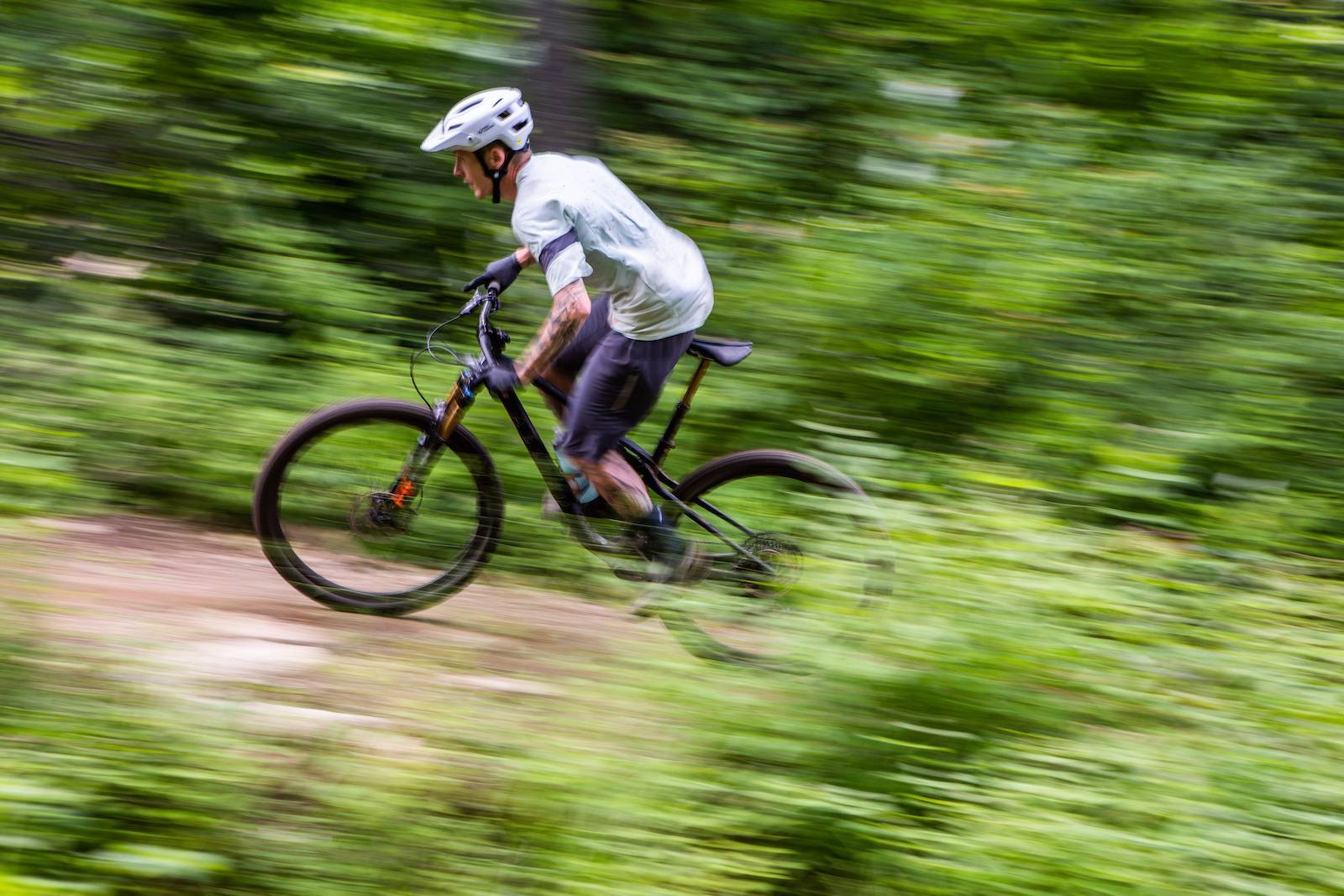 Climbing

It's cliche, I know, but the amount of travel a bike has doesn't define how it'll perform on the trail, and riding all of these bikes back-to-back only underlined that fact yet again. Allied's BC40 is a full-beans cross-country bike, no doubt about it, but it does that job very differently than the Lapierre XRM or BMC Fourstroke LT, two others I spent a load of time on in Quebec. Both of those have that traditional firm-off-the-top rear-suspension that sometimes had me double-checking to make sure I hadn't accidentally locked them out, whereas the Allied felt almost under-sprung in comparison. It wasn't - we checked many times - and both Matt and I were sitting at 25-percent sag; the Efficiency Test also proved that the BC40 is just as speedy on those loose and marbley gravel road climbs that some of us face getting to the goods.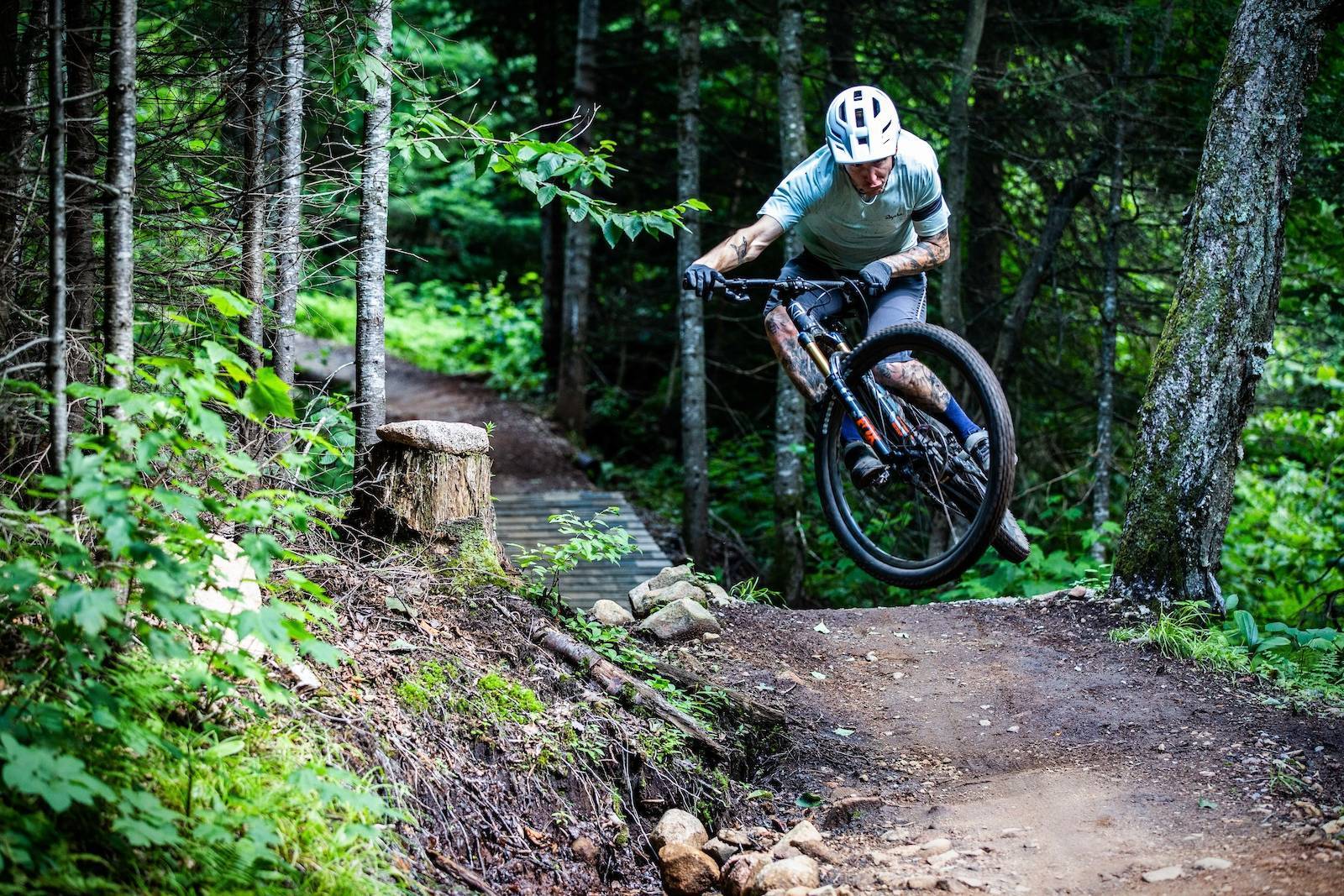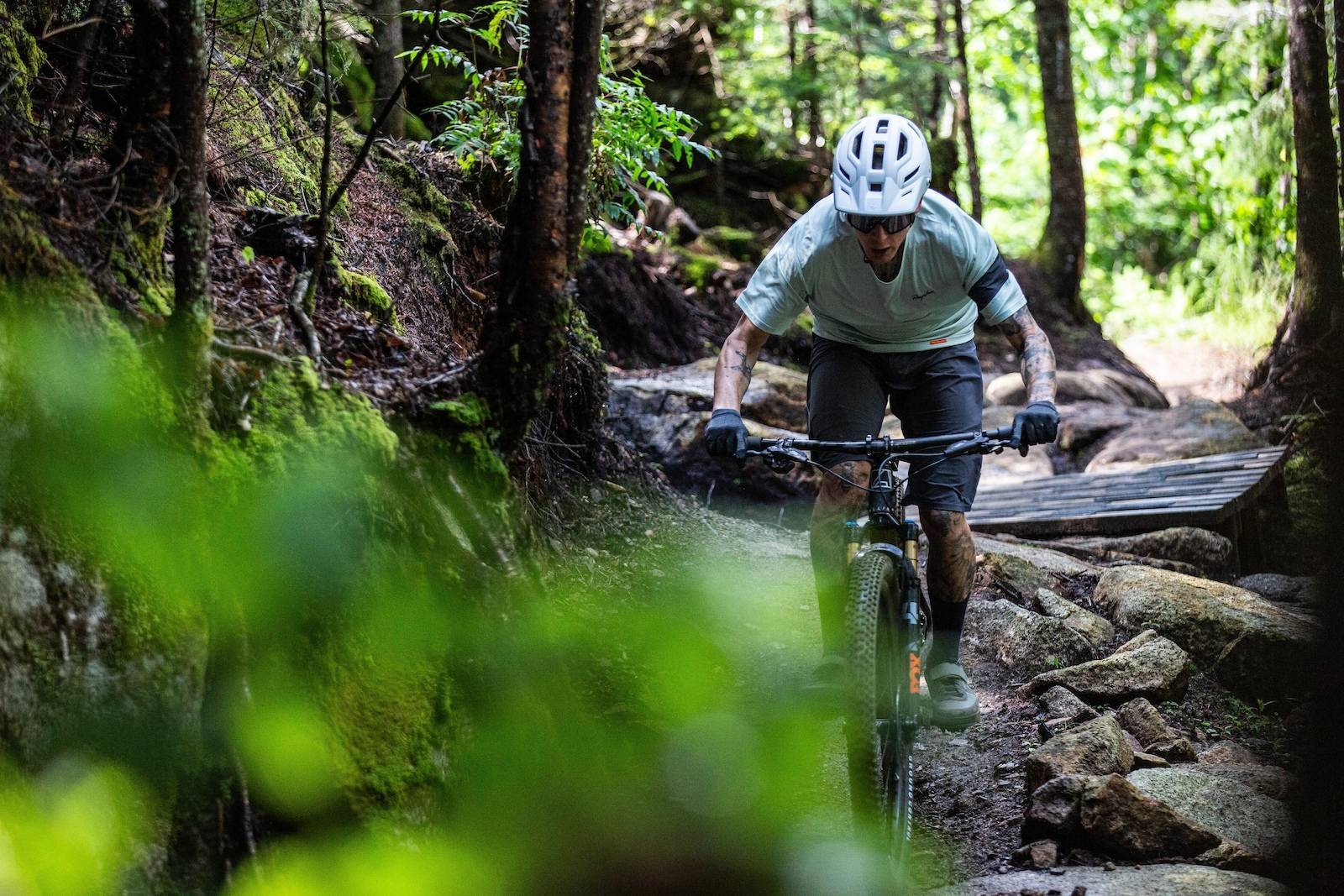 Descending

The BC40 reminded me a bit of Specialized's Epic EVO, one of my favorite bikes of all time, in how it felt so composed and stuck to the ground around whatever corner I wanted to goon my way through. While some of the other bikes had me keeping an eye out for anything that might upset them, however small, the Allied's calmness let me process things farther down the trail and relax more. That's probably why there were a handful of lines that I only ever took while aboard the BC40, especially following the afternoon thunderstorms that dropped more rain in thirty minutes than I thought possible.
Obviously, the BC40's biggest strength is its rear-suspension which packs a lot of performance into just 120mm of travel. It manages to be efficient when you're on the gas, supple at the top of the stroke and around the sag point, and it also has more than enough support and bottom-out resistance for whatever you're doing that you probably shouldn't be doing. That's a wide performance and set-up window, especially as many bikes in this category seem to be making sacrifices in one or more areas to benefit another.