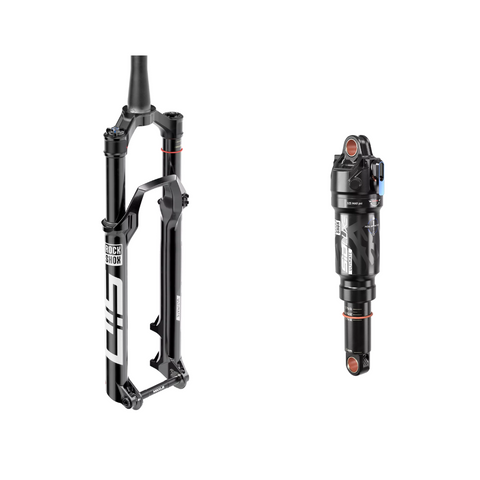 ROCKSHOX SID Ultimate 3P Fork / SIDLuxe Ultimate 3P Shock
ROCKSHOX SID Ultimate 3 Position 120mm Crown Adjust Fork
NEW 35mm chassis is the perfect blend of light weight and rigidity for the modern XC bike. Plus, we made it lighter…again.
NEW Charger Race Day 2 damper is the lightest damper on the market. This 3P damper features three compression positions: Open, Pedal, or a rock-solid Lock.
NEW DebonAir+ provides more small-bump sensitivity and tunable mid-stroke support.
NEW Bushing package maximizes bushing overlap for a smooth, solid ride.
NEW Maxima Plush Dynamic Suspension Lube reduces friction, lasts longer, and enhances suspension performance ride after ride.
NEW Crown machined to shave weight without compromising strength and stiffness.
NEW Bolt-in torque cap adapters included for use with standard hub end-caps.
ROCKSHOX SIDLuxe Ultimate 3P Rear Shock 
NEW Three-position damping system: Open, Pedal, and Lock.
NEW High speed compression damping blow-off for Open and Pedal positions.
Super-light XC design delivers premium performance and efficiency.
Dial in the perfect feel with multiple Open, Pedal, and Lock compression tunes available.
Designed to complement the feel of the SID and SID SL 3P suspension forks.
Compatible with the latest TwistLoc Ultimate remote.
Four damper control options to accommodate all bikes: lever adjust, remote in, remote out, backside remote.