LEA DAVISON ON RETIREMENT, COACHING, AND FINALLY SAYING YES TO MARGARITAS.
She's top-10'd the Olympics. She's podiumed at Worlds. She's now a US national team coach. Hell, she's even got a TED Talk.
Mountain-bike maven Lea Davison's career doesn't leave many boxes unchecked, but it was still something of a surprise when she decided to hang up the wheels in 2022. We recently caught up with Lea to find out what an Olympic athlete who's still at the height of her athletic powers does when she suddenly finds herself with a LOT of downtime.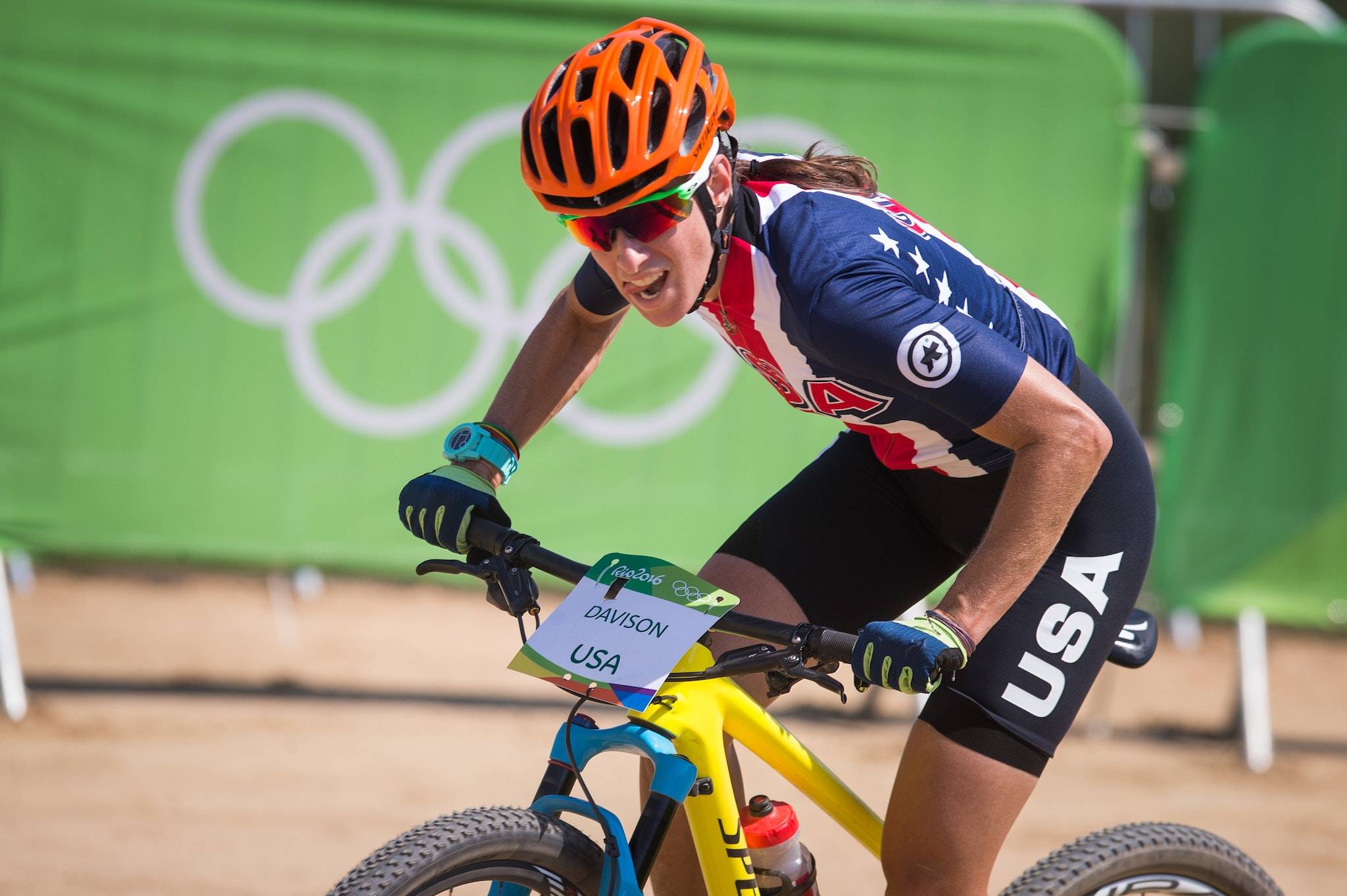 Riding – or not – in retirement
The first question had to be, of course: What does Lea do with herself now that she's not spending every day on the bike, preparing to be on the bike, or traveling to race the bike? Her response reflects the same level of ambition as her palmares.
"My life is a wide horizon, it's blown out," she enthused. "There's lots of opportunities, and I want to say 'yes' to everything!" This was corroborated by her wife, Frazier Blair, who paraphrased a typical conversation she has with friends and colleagues: "'So, what's Lea up to, is she bored?' No! She's overwhelmed!"
But for once in her life, she's not overwhelmed by the bike.
"For 20 years, I thought if I didn't work out and get my training done, I'm a failure. It's taken me a long time to unwind from that," Lea explained ruefully. "As a pro, you're functioning on a razor edge. You're pushing your limits so hard that sometimes you get sick or injured, and that's so traumatic, because you can lose your career, opportunities, you can get kicked off of teams – it can feel claustrophobic," she continued.
"Now, I feel like the world is my oyster. I'm so happy every time it rains, because I don't have to ride in it," she said brightly while also clarifying that she does still enjoy riding in inclement conditions on her own terms.
"It may be freezing out or 40 degrees, and I can tell myself 'I don't have to do this anymore!' But I can if I want, and then I'll warm up, and I know I'll have a way better day because of it," she noted, describing the non-pro joy of controlling when and how she rides. "I may be having an awful day. When you've had a career end, you can feel like you get lost, don't have a purpose, get stuck – and then as soon as I get on my bike, everything changes."
Of course, she's also enjoying not riding more: "I can just spend a rainy day inside. I can have a margarita and not feel guilty about it. I didn't realize the type of pressure I was functioning under until I stepped out of it. It's a huge relief," she told us.
"I get to see my friends and family. I can go skiing! For the first time this winter, Frazier and I could finally do lift serve together. We met in 2016, and this was the first time we've done that. I can be my full free range self – now I have the freedom."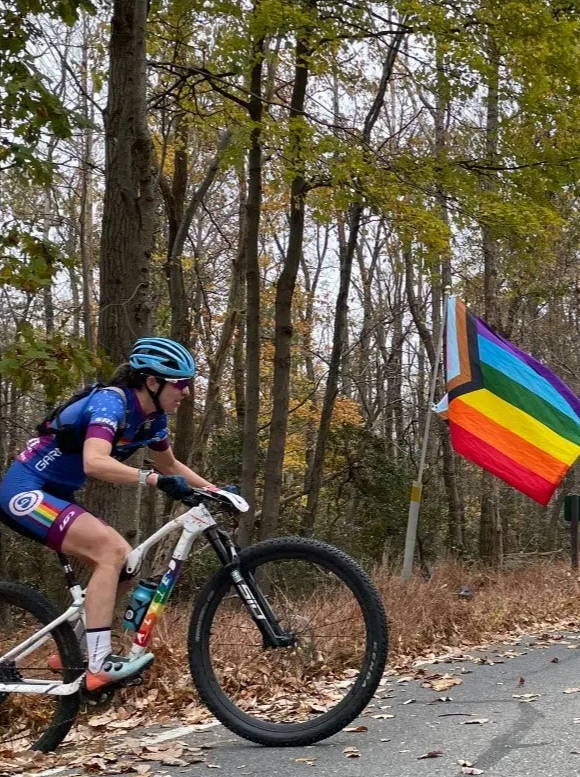 "To have ALLIED support me being 100% my authentic self, to have them make the first-ever Pride bike that a professional cyclist has raced and ridden – that's a very cool, very meaningful thing to be a part of."
TRAILS BLAZED, TRAILS BLAZING
Though she's loathe to take too much credit, Lea has had an undeniable impact on inclusivity in cycling, becoming a leader through speaking out and through letting her legs do the talking – though she didn't begin her career with an activist mindset.
"It took me a while to find my voice to confront certain issues in the public sphere. The generation before us fought for equal prize money, and then it went back, and we lost that equal prize money," she recalled.
"I saw these things going backwards and thought, 'This is bullshit. It's time to make a change. Having that experience shaped my approach in the latter half of my career – we're not gonna see this go backwards."
She also lauds the new generation of cyclists, who Lea credits with being outspoken in ways that felt out of reach for her while she was coming up through the ranks. "To see them pushing back on inequality so early – this next generation gets it. They know the power that they have and the influence that they have. If there's none of that," she continued, "then all these battles you've fought – equal prize money, representation, etc – they're lost. You go backwards."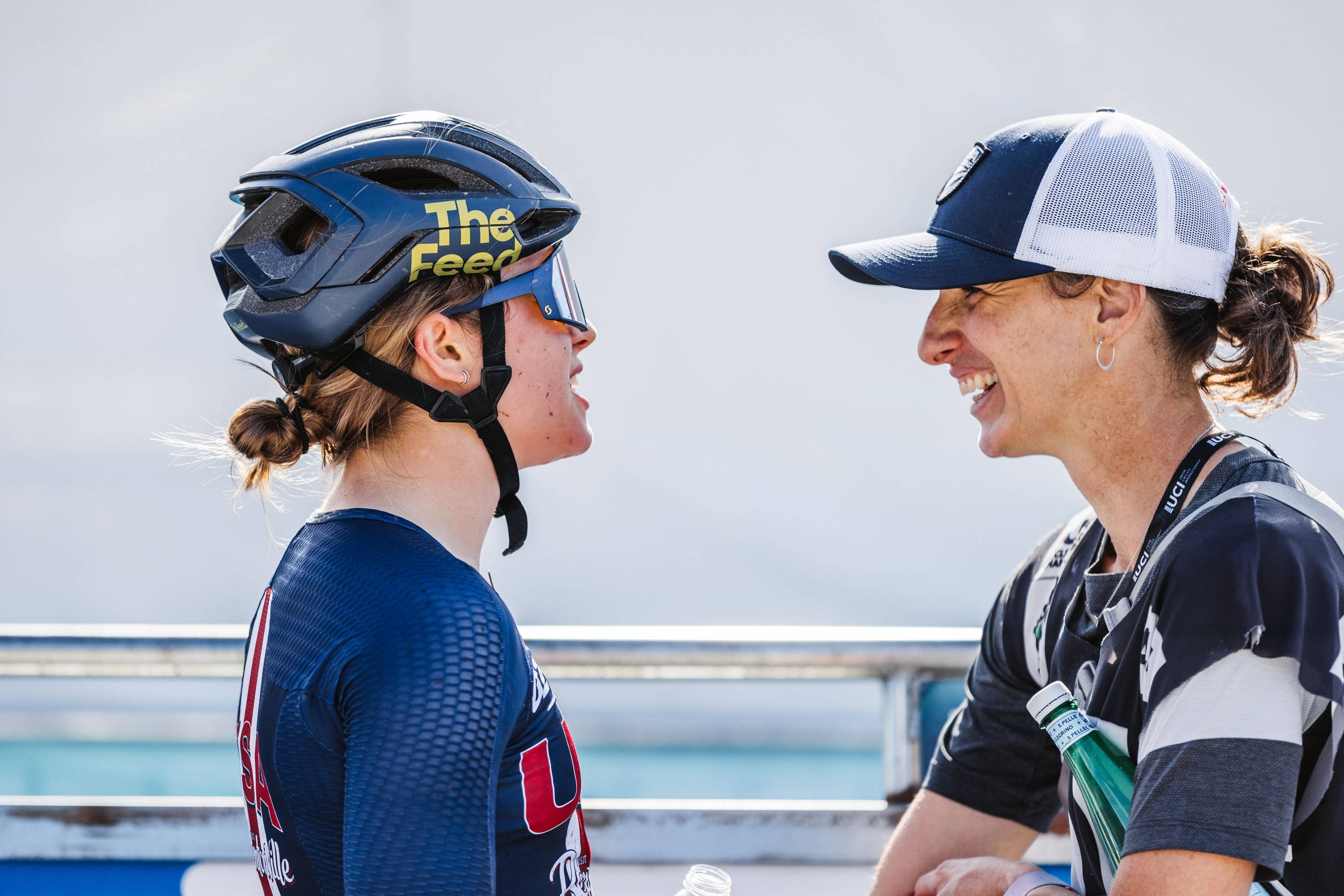 "There's nothing that fires me up more than the prospect of building a team and inspiring good humans," she enthused. "The national U23 team… the sky's the limit with this group."
"Each race at Glasgow Worlds, I would run three miles from the start loop to one of the main climbs on the course, and then I would just do hill repeats. I'd run up this one climb on each lap for each rider – five or six laps each. Sometimes it was six miles! I need to start doing duathlon training to be a coach!"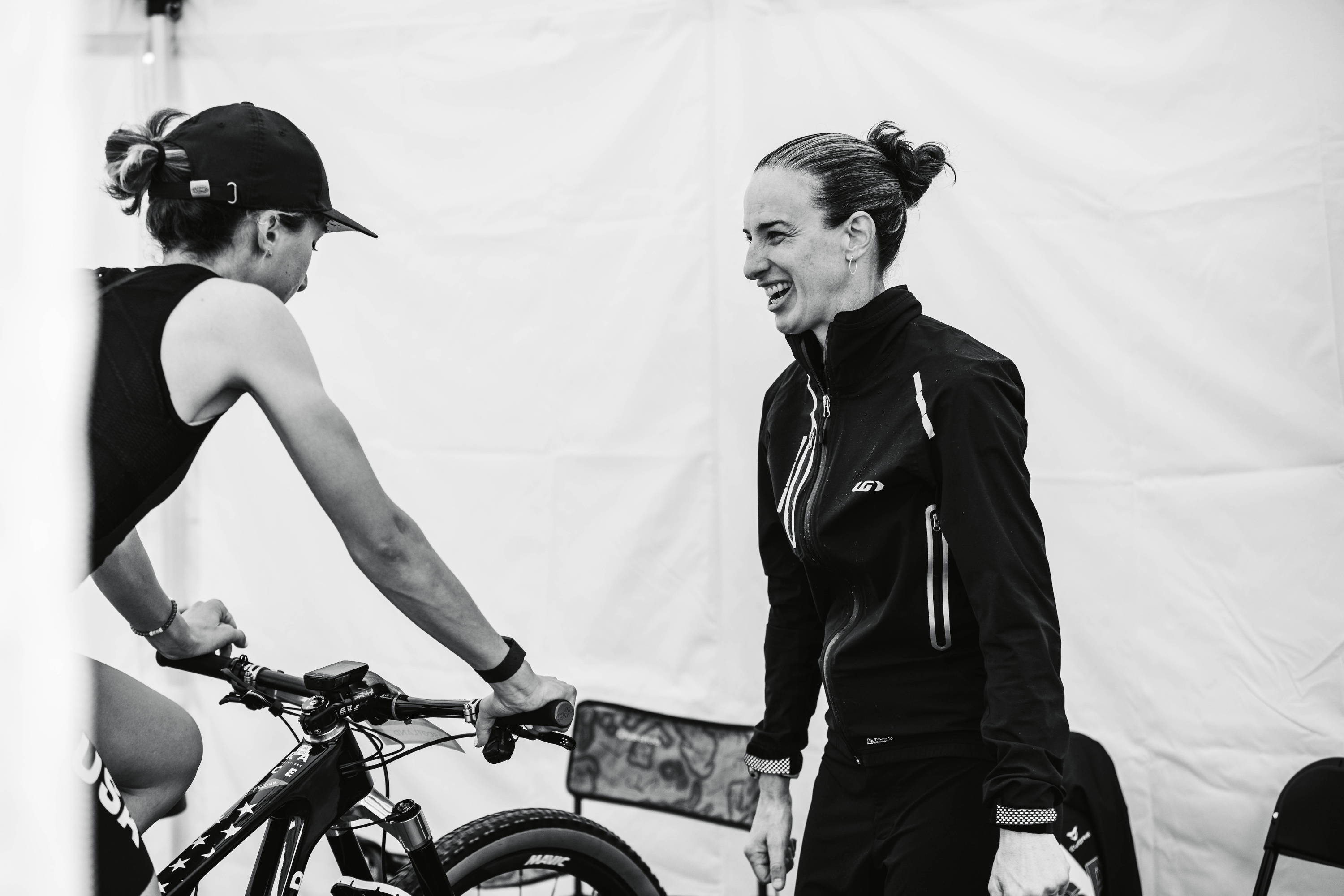 "I've accumulated a lot of knowledge over the past 20 years. Being on the other side of the tape, being officially in that role with that relationship with the riders, it's easier to pass that knowledge on."
The other side of the tape
Lea's career as a mentor has been official since April, when she joined the US women's mountain bike team in a coaching role, and since then, she's also been to Worlds in that capacity; however, she's been in informal mentoring roles for years, beginning well before she officially retired.
"I've accumulated a lot of knowledge over the past 20 years. Being on the other side of the tape, being officially in that role with that relationship with the riders, it's easier to pass that knowledge on," she said, noting that this role isn't completely new for her. "Mentoring is something I've always been passionate about. It just so happens that over the last years of my career – from 2016 on – I spent a lot of time with the up-and-coming female riders.
"It's so interesting seeing the generations," she continued. "The elites I mentored are in the prime of their career, and the juniors and U23s are looking up at them with their jaws dropped. We have Sofia Waite looking up to Kate Courtney, and hanging on every word she says. As that wave of riders comes through, to see them hanging on Kate's every word, it's touching, it's heartwarming," she said. "Some of these elite riders are now mentoring the new generation," a legacy of collaboration that she's happy to help nurture from out of the saddle.
Coaching is a different game than racing, and Lea acknowledges that there's still a lot for her to learn – including understanding the team dynamics from a different perspective. "Being so close to having raced myself is a huge advantage. I think it's easy to lose that perspective, how certain approaches might affect the racers," she said. "But there are some tricky parts to settling into the new role, officially transitioning from athlete to coach. A lot of those elite riders – I'm peers with them, so how is that different when I show up as the coach?"
It helps that, for years, Lea's approach to team dynamics has prioritized something she calls "competitive collaboration," which focuses less on direct competition between teammates and more on encouraging shared growth and mutual goal achievement.
"When I'm a coach, like when I was racing, that competitive antagonism disappears," she explained of internal tension as a team dynamic. "It's just a cohesive unit, competing towards a single success." To illustrate the approach, she cited her experience as a supportive teammate who didn't make the Olympics, but whose contributions helped secure three spots for the US team in Tokyo.
"We had the entire world to race against," she explained in her TED Talk on the subject, "so why would we compete with each other?" She later elaborated to us on the idea as an approach to coaching the US women's team. "I feel like if we did it there, we can do it anywhere. You don't have to be so cutthroat. It's better for everybody if we do it as a team. Now, we can do it better, too. We can be more intentional about it."
She's already seeing the approach pay off as a coach. "Mountain biking is an individual sport, and so on a lot of teams like this, the elites are very aloof, not willing to give back, and focused on their own races," she explained. "Not here, though. We're lucky on the US team to have such incredible humans show up and be willing to give back to the younger generation. It was an amazing thing to witness."
By contributing first as a racer, then as a mentor, and now as a coach, Lea is in a position to continue building that atmosphere of mutual support across generations – her competitive collaboration – to ensure the gains each successive generation has made are perpetuated and built upon by the next gen.
"There's nothing that fires me up more than the prospect of building a team and inspiring good humans," she enthused. "The national U23 team… the sky's the limit with this group."
THE ALLY | LIMITED EDITION BC40
To celebrate Lea's impact inside and outside the tape, we partnered with her to create a limited edition BC40 with a Pride-inspired paint scheme called The Ally. It's equal parts aggression on climbs, point-and-party on descents, and a message of inclusivity for all riders.
Everyone's welcome here, because the mountain bike community benefits when we ride together.