PAYSON MCELVEEN ON THE INAUGURAL GRAVEL NATIONAL CHAMPIONSHIP.
A course worth the effort
Gravel's first-ever US national championship was unique in two ways. First, it was, well, the first. Second, it "provided some very unique challenges," according to ALLIED factory team athlete Payson McElveen.
"It was unlike any gravel race I've done before. I think the course profile was well designed, with the two most selective climbs towards the end with the hardest climb at 15 miles to go – pretty flat on paper based on the climbing per mile," he explained. But climbing isn't always the hardest part of gravel.
"Despite the apparent lack of climbing, the course took all kinds of horsepower to get through," he told us, describing a grueling race with loose, sandy patches – gluttonous, punishing pits that would swallow tires and watts. "It required a ton of horsepower," he emphasized.
His approach to the race was relatively simple: Stay at the front until the deciding climbs, and then see how the legs were in the finale. And the race played out that way. Sort of. The difficult terrain, a huge early crash that lightened the pointy end of the field, and heated struggles for positioning meant that no one got to those climbs with the legs they thought they'd have.
"It's like you're in the breakaway in a really hard classic," Payson explained of the constant need to manage position – and move up if you weren't in an ideal spot. "There's wind, echelons, crashes – it's just full gas. It's just on. I think some people were expecting it to be really negative racing because it's so flat and it's a title race, but with the conditions and the course, it just turned out to be like a fist fight in the wind." Sound miserable? Payson doesn't think so.
"As a glutton for suffering, that was pretty cool, to be presented with such a challenging course."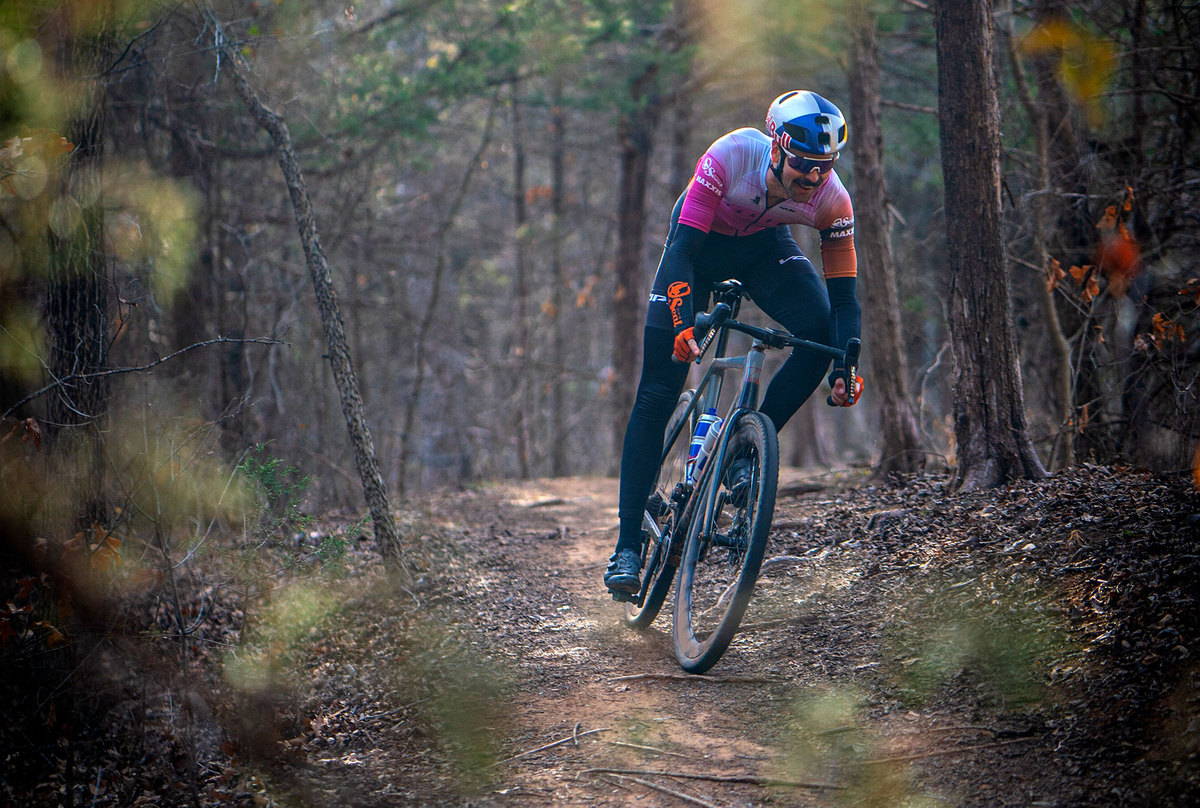 The final selection
If the finale didn't feel how Payson expected it to, it certainly looked that way.
"It was a pretty classic small-group tactical situation," he recounted, noting that eventual winner and Life Time Grand Prix terminator Keegan Swenson had teammate Tobin Ortenblad on hand in the final selection.
"We had our hands full marking Tobin's moves, waiting for a counter from Keegan," he explained. "It got cat-and-mousey until the last climb, everyone expected a big move there. I thought it'd come from Keegan, but it came from Alexey [Vermeulen]. I was really impressed with how much punch he had left – it was all I could do to follow that move."
Keegan also bridged up, so Payson found himself in a conveniently podium-sized group with some big, big engines and even bigger aspirations: "I was on the limit, but I kept telling myself it was for the medals."
"Just over the top, Brennan [Wertz] was able to steamroll across to us," he said, describing how the trio became a quartet. "Then we got a tailwind ripping towards the finish, and Brennan has a signature downhill tailwind attack style. He came over the top of us several times, which was hard to shut down."
In addition to playing into Brennan's strengths, the tailwind was also helping John Borstelmann close the gap while riding solo. He eventually finished fifth, never getting back on, but some brinkmanship in the lead group made it close.
"John was getting closer and closer because of the cat-and-mouse, and we didn't like the thought of him reconnecting. We decided to rotate and make it a sprint, but literally while we were having that conversation, Keegan sniped us," said Payson, describing the attack that everyone expected to happen sooner or later.
"Running on fumes and battling cramps"
Keegan's was perfectly timed. It caught the others looking just as the course turned technical, which impeded the chase: "He hadn't tried to make a move before, and we were just too slow to react." The course also made a difference here, with Keegan launching just as the course got tight and twisty with more of the loose surface that had been sucking up watts all day.
"Given the corners and constriction, we couldn't cooperate to bring him back," explained Payson. "He instantly got 10 seconds, and it was close enough to the finish that that was that. We realized we were racing for two through four." And that race wasn't in Payson's favor.
"Coming into the sprint, I was running on fumes and battling cramps, so I was just trying to stay on the wheels while still believing that something could happen in the sprint. After a six-hour race that's been full gas for so long, you just don't know what's gonna happen"
In the final corner, Payson got a small gap, but it wasn't enough to hold off the others and he ended just off the podium in fourth, losing a second to Brennan in third and just under 20 seconds back from Keegan in first.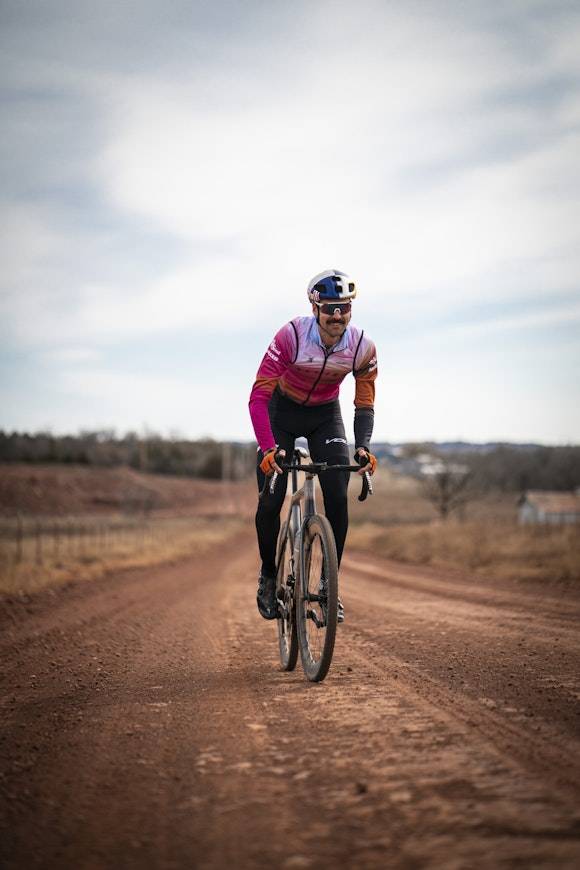 Reflecting on the bike spec
Given the nature and conditions of the course, Payson opted for an ALLIED ECHO, with the eccentric chips set in kicked-out gravel configuration for added stability and tire clearance.
"The ECHO was perfect for the wind," he explained of his choice to ride an all-road machine instead of the gravel-specific ABLE. "Having an aero bike goes a long way in conditions like that."
The ECHO was built up with a SRAM Red eTap AXS double, a Quarq power meter, and ZIPP 353 NSWs ("Those were also nice from an aero standpoint.") wrapped in 40mm Maxxis Receptors. For gearing, Payson ran a 48/37 up front with a 10-33t cassette. Besides positioning, chainring size may be his one regret from this race: "That 48 was actually not enough! I definitely needed a 50 up front," he said, and not just for this race, but going forward on the gravel circuit.
"I probably won't be running 48 for most gravel races," he said. "I think to be competitive for the win, you have to be on a 50 at this point. That's the direction gravel is going – these races aren't just getting faster, they're also getting more competitive. The races can be more open in a way, like with Brennan's downhill attacks. I was having trouble following those because I was geared out. I think to be competitive for the win you have to be on a 50 at this point."
Off the podium but on the rise
The watt-sucking choss, the crashes, and the climbs all played a role, but at least one of those obstacles is avoidable – at least in theory. Payson wasn't too interested in theorizing, though, preferring to stick to numbers and analyze what actually happened.
"Sure, it'd be interesting to see how it would've been different without that big crash," Payson said of the field-shakeup around mile 30. "But looking at my power numbers, there were so many points that required such a big surge to get back on. I think it would've played out that same way with 8 or 9 guys going into the final."
The big crash at nationals wasn't the only crash that impacted Payson's race – an early-season dust-up saw him out of competition for a big chunk of time, and out of top form for much of the season when he was able to race. When asked if the lingering effects on fitness from that crash kept him off the podium, though, Payson again downplayed the hypothetical and focused on the race itself.
"The differences after a race like that are really small, and being able to do 1,100 watts instead of 1,300 in the final sprint – that was the difference. That could've been because of not getting enough sleep the night before, not eating another gel or two during the race, or just having to work to close gaps because of crashes and positioning," he said.
"It wasn't about the season that had come before, it was about that day."
And of course the season that came before has been promising, if not as dominant as past seasons. According to Payson, each race has gotten better, and a top-ten at August's SBT GRVL – which he won last year under very different circumstances – gave him confidence heading into the national championship.
"Things are looking up for sure," he said after another, even stronger result. "It's tough to be 19 seconds off the jersey, but it sure felt good to be battling for the win in a big race again.
"It's been a long road back since that big crash in May, but every race is getting better."
The future of Nats and looking forward to Worlds
Though it was only the first edition, the race was decidedly different from your typical gravel event, with less of a party atmosphere and more of a racing one.
"It did have a very different feel – no shake out rides, no expo," explained Payson. "I don't know if or when this race will become a bigger priority than other events. I think it's too soon to say what the impact will be." Though gravel is relatively young as an official discipline, the national championship has some competition from events that feel very established. Leadville, Unbound, Steamboat, Mid-South, Crusher, and even some of the Belgian Waffle Rides have quickly built prestige in the burgeoning North American gravel scene.
But as Payson points out, there is one thing those races can't offer: "I think it'll be cool for someone to be able to wear the stars and stripes next year."
The event also serves as a ladder up to the gravel world championships, which offer an even more attractive jersey. The entire podium at US nationals are guaranteed a spot at worlds, with several at-large spots still open. Payson's surging form and fourth at nationals made a strong case for his inclusion. He'd been talking to USA Cycling about going to Worlds, and now it's confirmed: he's on the team.
"I'm interested as much for the team experience as for any individual ambitions. There's a lot of camaraderie that builds up in these races. Even though we're competing, we're out in these conditions during these hard races, so friendships form. I've never done a WC where team tactics could come into play, but gravel worlds makes sense for teams to collaborate, with individual rider sponsor obligations put on hold. We've got a good group for that." He also likes the odds considering who the US's likely captain would be.
"We have someone special in Keegan who could stack up to anyone who shows up. There's a handful of us who are pretty excited to go race as a cohesive team and bring home a legit result while defending gravel as a US-born thing."
THE ECHO |  
ONE BIKE. EVERY RIDE. IMPOSSIBLE TO CATEGORIZE.
Surprised that Payson opted to race his custom-painted ECHO at gravel nationals? We're not, and we don't think anyone who's ridden one on choss and chunder in the kicked-out gravel configuration will be surprised either.
Learn more about the do-it-all ECHO – and cook up a custom paint job of your own – here: