THE ALLY
Lea Davison Limited Edition BC40
"YOU CAN'T BE WHAT YOU CAN'T SEE."
Lea Davison's career includes the Olympics, Worlds podiums, and coaching for the US national team. She's also an inspiration for the modern XC racing characteristics of the BC40, which combines the aggression of a trail bike with the responsiveness of an XC pedaling platform – or as Lea puts it: "These are the best bikes I've ever ridden. The BC40 can handle everything I throw at it, and it pushes me to keep pushing it harder. Every ride it's like 'Woah! That got spicy real quick' – and that's just how I like it."
Lea's frame is painted in our limited Ally paint scheme, which celebrates Lea's career while embodying her contributions as a role model and advocate for women and LGBTQ cyclists in all disciplines, across all age groups. The multi-layered hues are built up and sanded down on the logo to achieve a heat map effect, and the rainbow paint splatter across the otherwise clean white base is a subtle nod to the Pride flag, because – as Lea points out – "You can't be what you can't see."
Key Features
---
FRAMESET WEIGHT

1950 grams (Lrg)

GEOMETRY

A slacker front headtube angle for predictable handling at speed across buff and technical terrain. A longer front-to-center measurement shifts the weight of the rider further behind the front wheel for more control to maneuver at high speeds.

SUSPENSION

Designed for 120mm front and rear travel. Flex stay w/ kinematics designed for pedaling efficiency.

COMPATIBILITY

Cable management at the headtube allows for easy compatibility across components, including dropper posts and remote lockouts. Threaded BB.

BOTTLE MOUNTS

Capable of carrying 2, 1 on the downtube and 1 on the seat tube

TIRE CLEARANCE

29x2.4
WE RIDE TOGETHER, AND EVERYONE IS WELCOME.
"I was in tears when I got this bike, and I've seen it have the same impact on people who don't typically see themselves represented at the elite level," Lea said. "To have ALLIED support me being 100% my authentic self, to have them make the first-ever Pride bike that a professional cyclist has raced and ridden – that's a very cool, very meaningful thing to be a part of."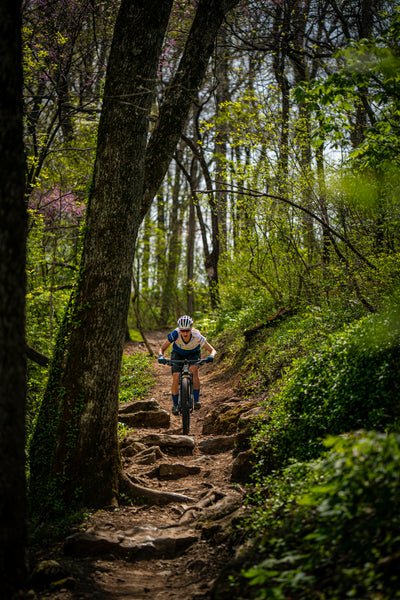 The Ally - Limited Edition Bike
Limited edition paint scheme celebrating Lea Davison's career and life.
Stretches the capabilities of what a cross-country bike can do while making no compromises with weight and pedaling efficiency. 
In-house development with proprietary testing methodology and machines, with performance benchmarked against our competitors' bikes.
Every piece of carbon is meticulously cut, stacked, formed, and molded to hit the highest possible quality standard in our Allied Technology Center / Bentonville factory. 
Aluminum suspension linkage and floating brake mount machined in-house to ensure the highest precision for fitment and alignment. 
Built to exceed the expectations of multi-time Olympians and national champions, for ultimate performance at the highest level of competition.
Inspired by decades of riding and racing, and purpose-built for the hundreds of miles of trails in our backyard.
Frameset includes a Rock Shox SidLuxe Ultimate 3P rear shock, and Wolf Tooth headset.
Features
Slide Header
Slide Description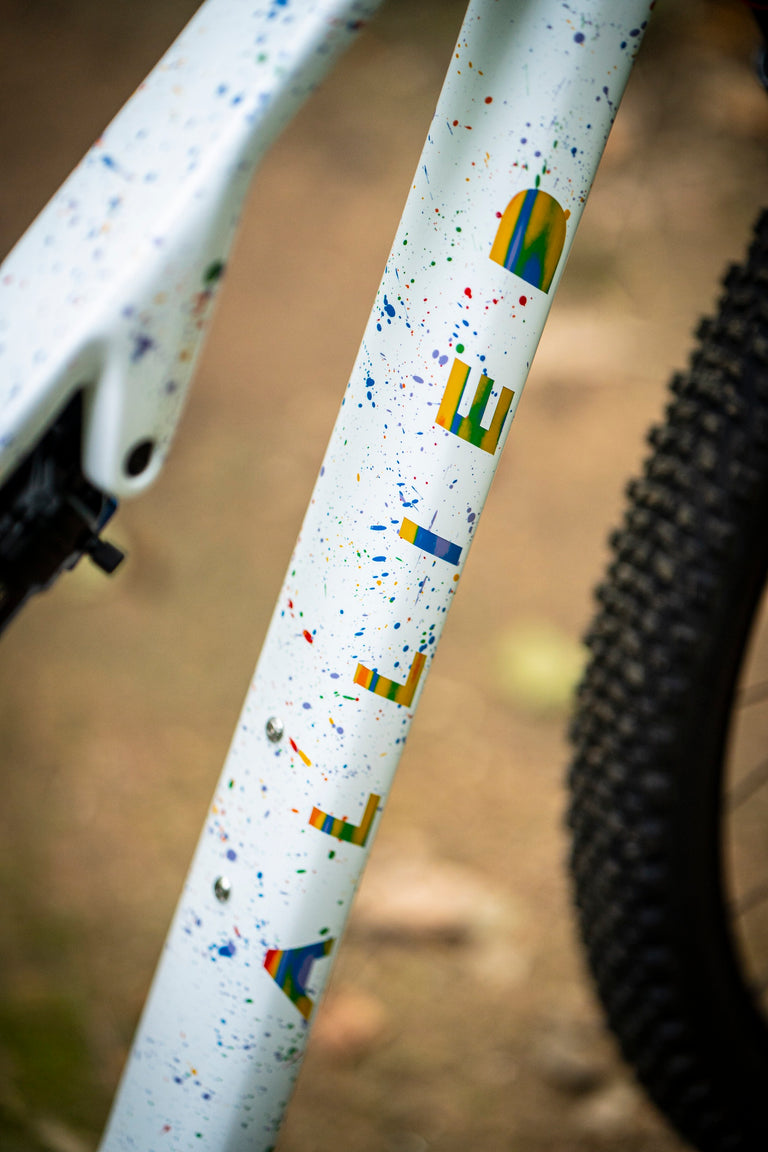 Slide Header
Slide Description
Slide Header
Slide Description
Slide Header
Slide Description
Slide Header
Slide Description
Slide Header
Slide Description
Slide Header
Slide Description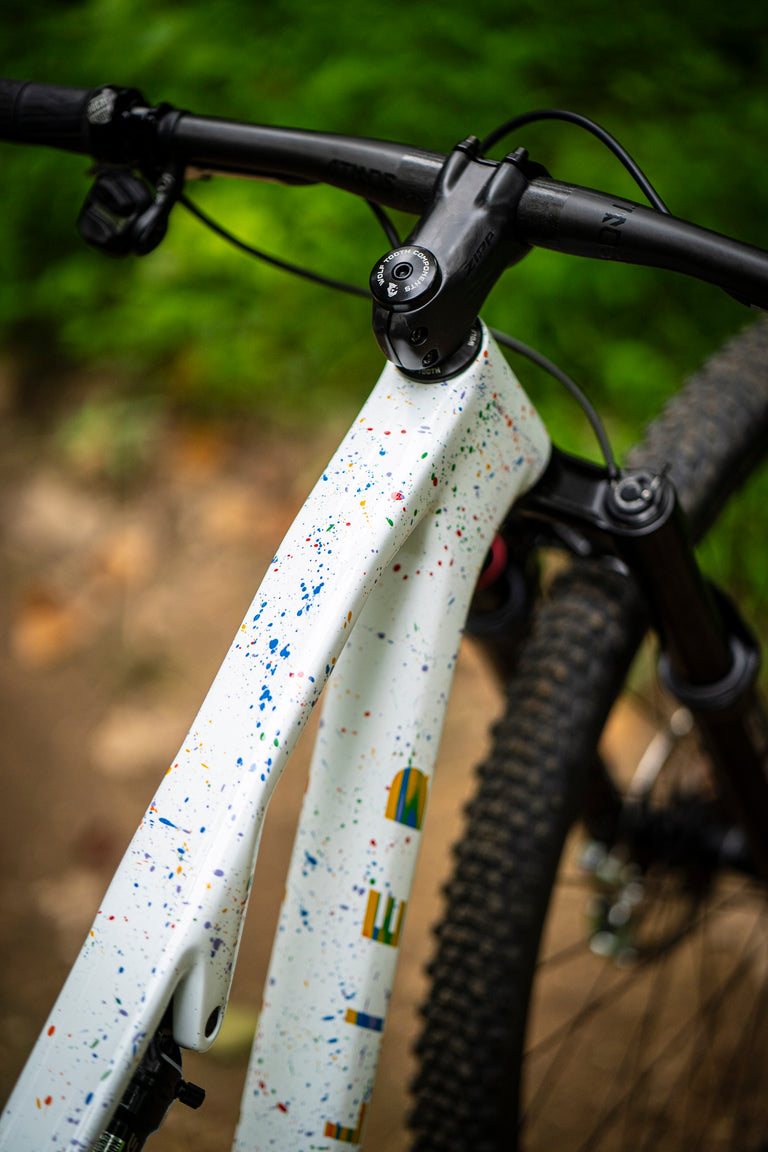 Slide Header
Slide Description
Sizing
| | | | | |
| --- | --- | --- | --- | --- |
| | SM | MD | LG | XL |
| A. Stack | 598 | 609 | 622 | 633 |
| B. Reach | 420 | 445 | 475 | 501 |
| C. Front Center | 710 | 739 | 775 | 806 |
| D. Seat Tube Angle | 76 | 76 | 76 | 76 |
| E. Wheel Size | 29" | 29" | 29" | 29" |
| F. Headtube Angle | 66.5 | 66.5 | 66.5 | 66.5 |
| G. Fork Rake | 44 | 44 | 44 | 44 |
| H. Head Tube Length | 95 | 105 | 120 | 135 |
| I. Bottom Bracket Drop | 40 | 40 | 40 | 40 |
| J. Wheelbase | 1145 | 1174 | 1210 | 1241 |
| K. Chainstay Length | 435 | 435 | 435 | 435 |
| L. Horizontal Top Tube | 569 | 596 | 630 | 659 |
| M. Seat Tube Length | 395 | 420 | 450 | 500 |