Colin Strickland has spent the last three years methodically carving out a niche for himself in the sport of professional cycling. He first rose to prominence as a fixed gear criterium racer, winning three Red Hook Crits (Brooklyn, Milan, London, Barcelona) in 2015/2016. His penchant for forward thinking drew him to the gravel racing scene, and an exceptional physiological makeup for the genre allowed him to excel quickly, netting him Gravel Worlds wins in 2017 and 2018. And of course, all of that leading up to a 100 mile solo win at Dirty Kanza four months ago.
As the 2019 season winds to a close, we caught up with the King of Gravel to chat about his perceptions of the season, the World Tour, and how he plans to spend his winter at home in Austin, TX.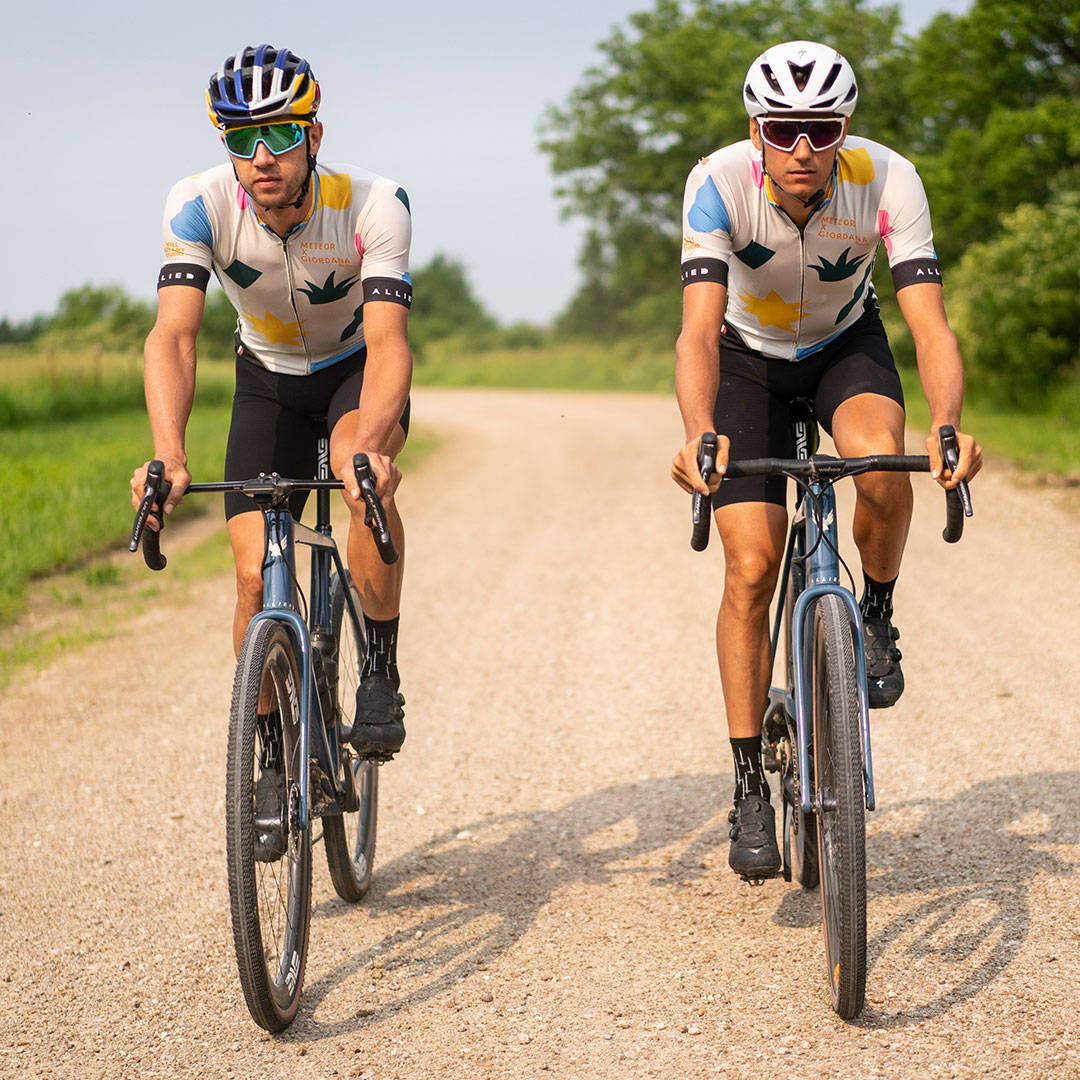 Ten hours of racing at Dirty Kanza. You ate how often? What did you eat?

I knew that for such a long and massive effort, fueling was going to be hugely important. I typically take an analytical approach to quantifying fueling requirements, but the enormity of this effort actually simplified the fueling plan. Roughly 10 hours suggested over 10,000 calories would be burned. This is far more than you could ever replace during the effort, so it became a matter of consuming as much, as often as possible. I ate every time my stomach, and the race would allow. As soon as my stomach settled from the last mouth full of Skratch bars, I throw down some more. I ate Skratch bars and energy chews the first eight hours of the race, and the final hour or so I started taking gels for quick, spatially-efficient energy. This equated to approximately one half a bar or bag of chews every 20 minutes.


You attacked on Little Egypt Road, around the 105 mile mark. What was going through your mind when you went?

I knew my teammate Kevin had flatted, along with many other race favorites earlier on. And there was no way they were coming back. Our group had been motoring for five hours at this point, and there was just no way a small chase could reconnect. Lachlan Morton had thrown in a few digs to animate things, and I observed a general reluctance to cover attacks throughout the group. This gave me the sense that people were starting to feel fatigue. I had just chased back onto the group for 20 minutes at threshold from a flat at mile 75, and this actually woke up my sluggish legs. I was ready to make things hard, and it seemed like most of the others were not. I was really hoping to take one of the EF (Education First) guys with me, but there was still a chance someone could bridge up. Either way, it felt right and I rolled with it.


The night before in the hotel, you went back and forth quite a few times trying to decide whether to use aero bars or not, finally deciding on yes. Could you have won without them?

Yes, I believe I could've won without them. Based on the nine minute gap back to Peter Stetina in second, and the 18 minutes gap back to Alex Howes and Lachlan, I am confident I could've suffered a bit more lower back pain to hold all of these chasers off. I train without aero bars, instead resting my forearms on my bar tops. This position provides aerodynamic advantages similar to aero bars, minus the added stability and comfort. I would not make this assertion if I did not spend hundreds of hours training in this position. Aero bars make holding this form far more comfortable and stable, but if you have done the work without them and you can take the beating, the advantages are there.
What was in that huge bag under your seat?
We ran the Arundel Gordo Prototype seat bag. This afforded us enough room for two tubes, three CO2 cartridges, a multitool with chain breaker, Co2 heads, and a multitude of tire plug kit from Orange Seal.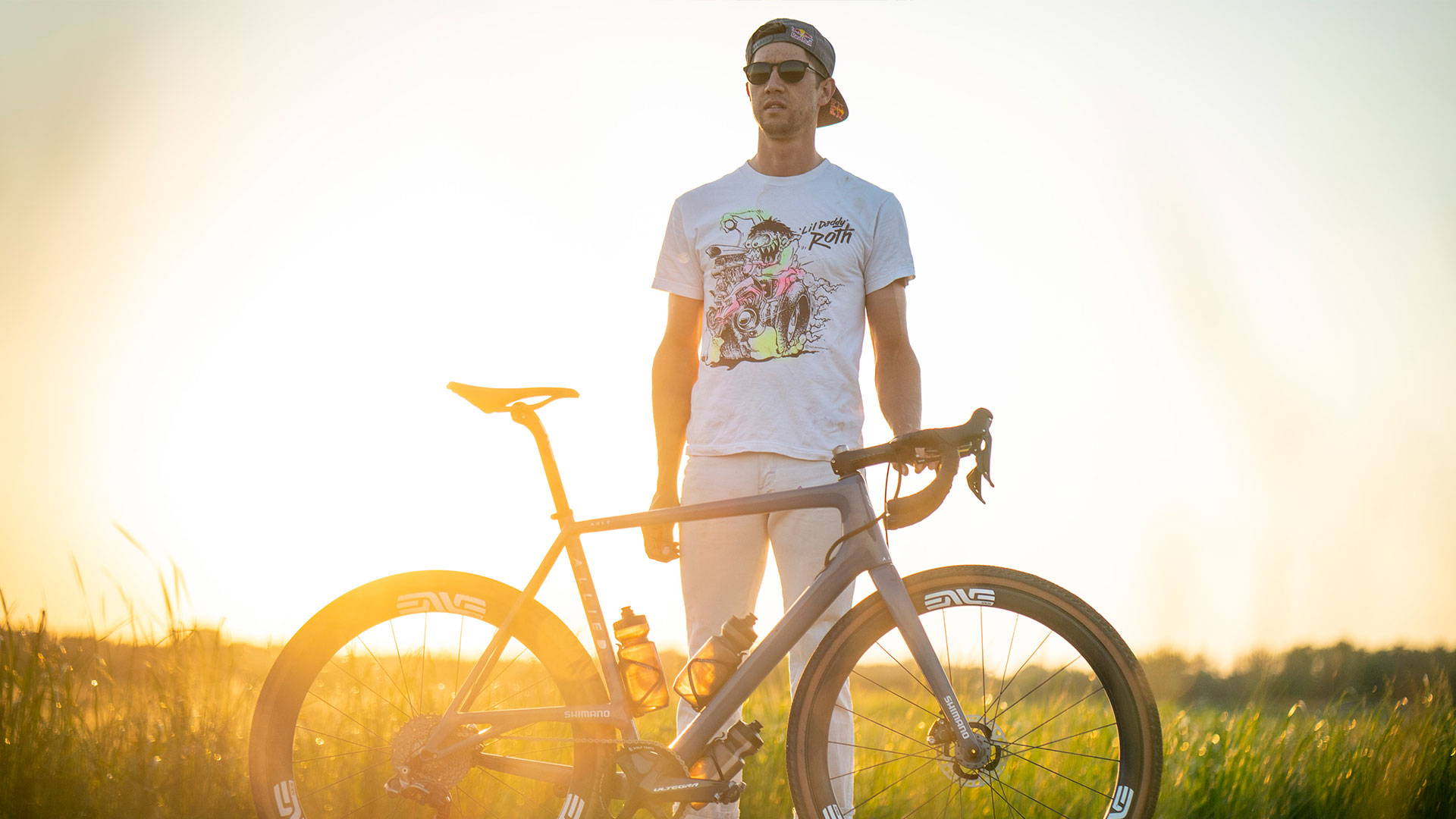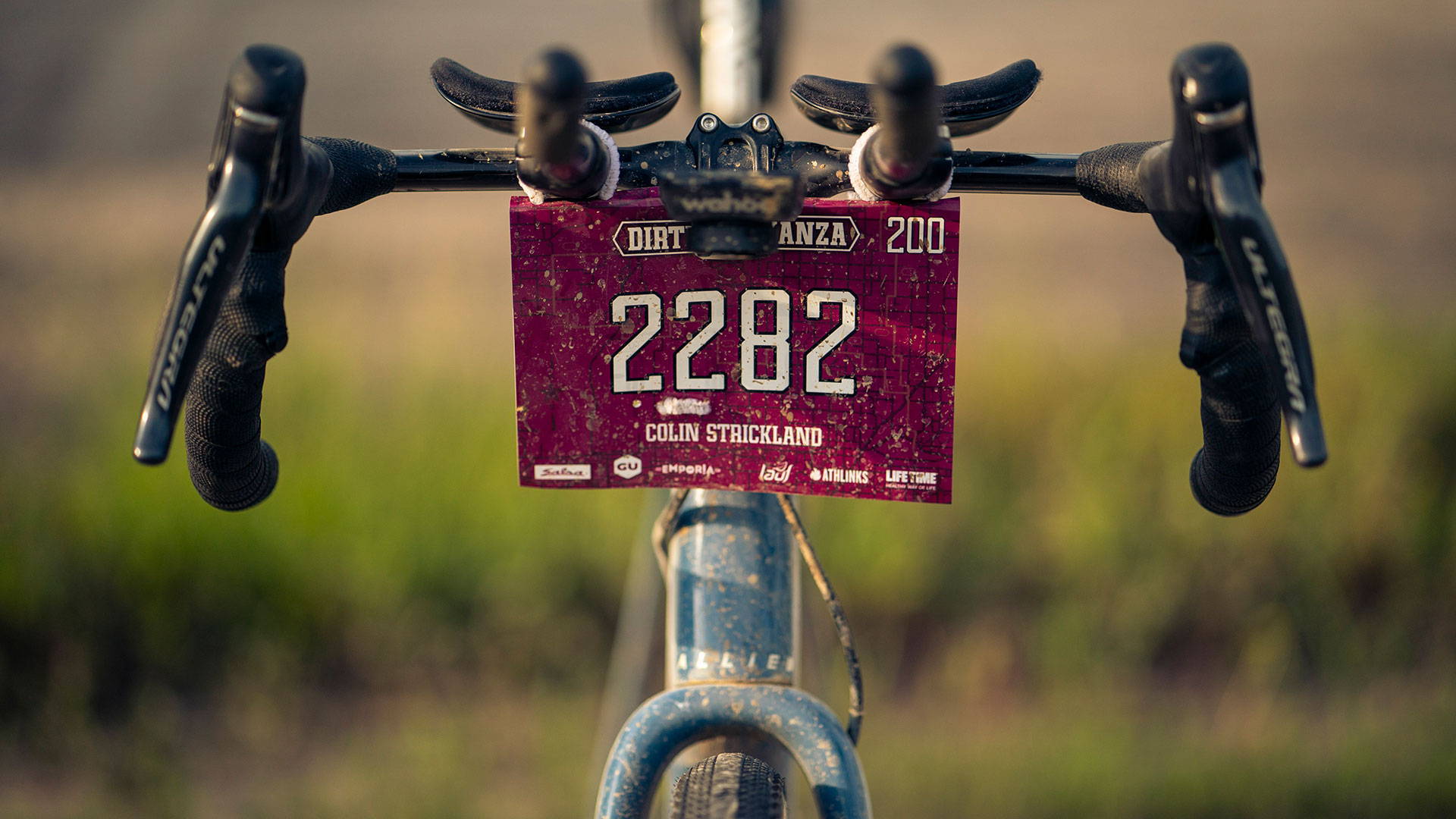 Flat tires were plentiful this year at DK. How many did you have? Where? How did you fix them?
I got my first puncture from a sharp object in the center tread of my Specialized Pathfinder 42 mm tubeless rear tire around mile 75. The front group numbered about 20 riders at this point, and I spent 20 minutes at threshold effort to catch back onto the group. This first puncture required a plug, and an injection of CO2 compressed air. After the plug, the Orange Seal sealed the puncture for the next 125 miles.
My second puncture came with 20 miles to go in the race. I was off the front solo with roughly 6 minutes back to Stetina, but I had no idea what the time gap was. This time the cause was a large antique nail, stuck squarely in the center of the tread of the rear tire. "You have got to be fucking kidding me" I thought as I dismounted, pulled the nail, rotated the puncture to the lowest point, and let the orange seal do the rest. No added air necessary. Back on the road.
PSI in your tires?
I started with 43 PSI in the front, 45 in the rear. I ended with roughly 25 psi in the rear due to the second puncture.
Did you have a professional mechanic at the check in points?
No, I serve as my own mechanic. We did have a friend meeting us at checkpoints with our basket of supplies and tools at the ready. He was incredible!
What was in the "supply kit" at your check in points?
We had pre-filled Shimano hydration backpacks ready for us at checkpoint 80, and 150.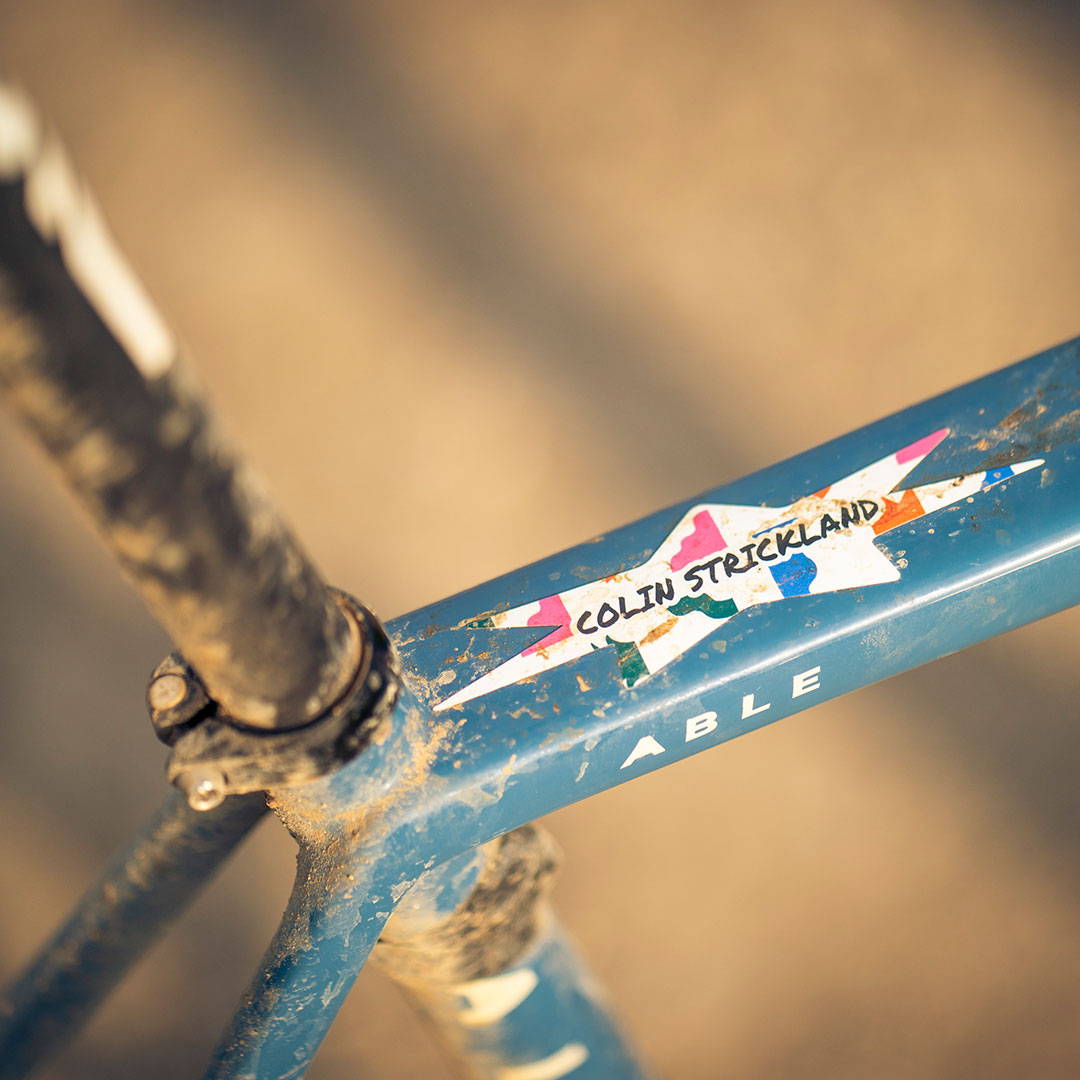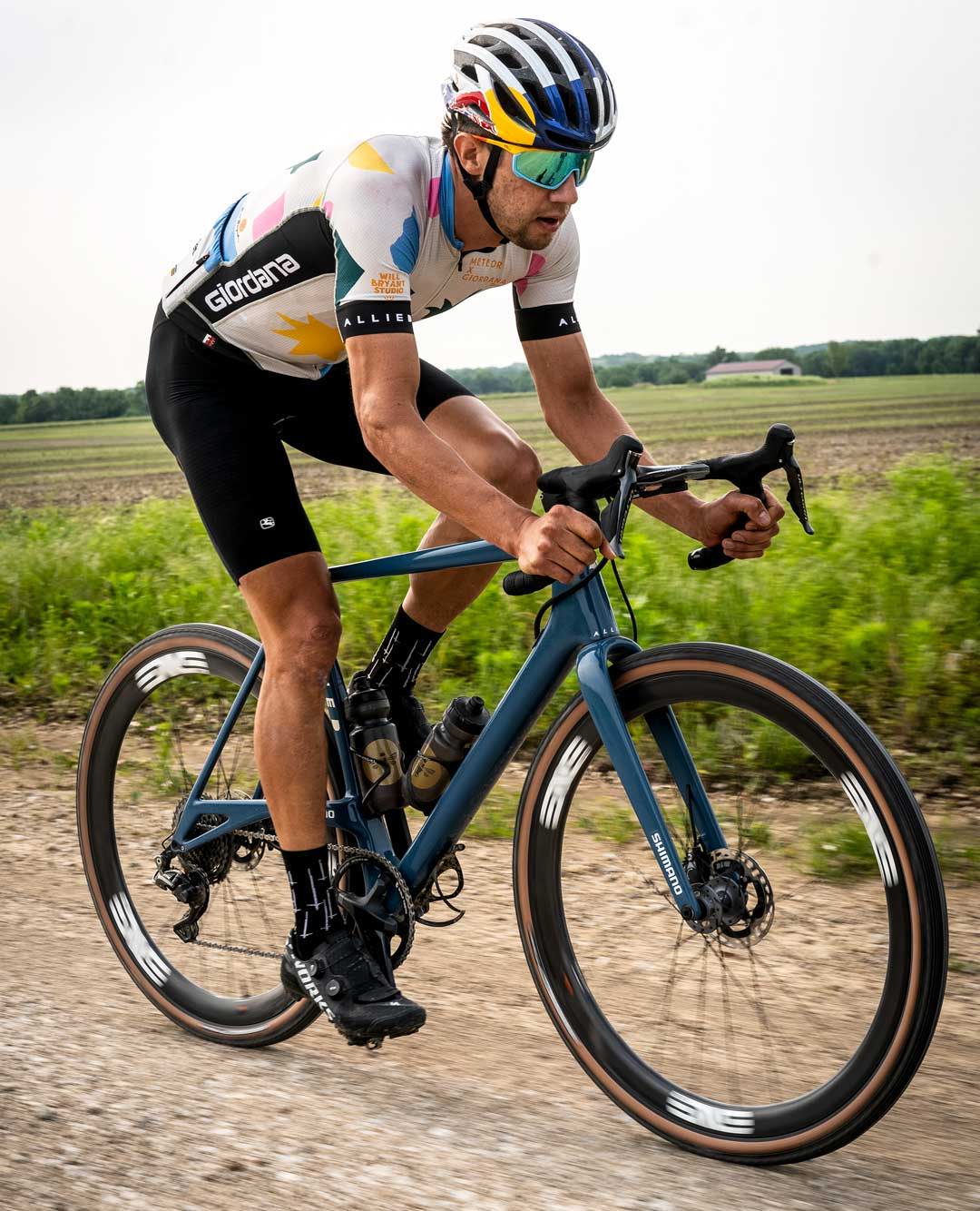 Did you go number one? Number two?
I took a leak from the group while moving at mile five or so, as it was cool in the morning and I was extremely hydrated before I started sweating. No number two till after the finish. Luckily, my plumbing was not an issue.
What was going through your mind the last 30 miles? Did you know that you had a big gap on the chasers, or were you in the dark on that?
I was completely without intel from the point I attacked the group. I would constantly scan the horizon behind me over the tops of large hills with extended vistas, but that was the extent of my time splits. I knew they were coming, but had no idea how far back they were. For the last 30 miles I just focused on my lines, and regulating my power output to dodge the tinges of cramps swirling through my legs. I was sure not to think about winning, and instead focus on riding efficiently and smoothly. Stay fast, stay low, don't cramp, don't get sloppy.
At times this year it seemed as though you were unbeatable in races over 120 miles in length. What other W's did you rack up this year?
This is the first year I catered my training towards these extended distance gravel events. The result has been very satisfying. I did not win all the races I hoped, as crashes or punctures took me out of contention at LandRun100, SBT Gravel, and Belgian Waffle Ride. Races I won this year were DK 200, The Rift Iceland 200 K, Rebecca's Private Idaho Queen stage and uphill TT, and El Camino 105. I hope to add to this list next year, as I believe these distances to suit me.
You have a penchant for working with your hands, fixing things, building stuff. Where did that come from?
My dad is a farmer, plumber, and general handyman. Having the tools around as a kid allowed me to develop the confidence and skill to fabricate many things I need around the house.
What are some current home projects you are working on in the off season?
Currently, my big project is gutting and remodeling a 37 foot Spartan travel trailer. I hope to take this rig on the road in 2020!
Would it be fair to say that bikes, guitars, and moto's fill into the top percentages of your daily endeavors? In that order?
I would say that is exactly correct!
You were offered a contract with EF on the World Tour for 2020 and you turned it down. Why?
While riding the World Tour spring classics for EF would be a huge opportunity and a unique and wild experience, I have a very good thing going that has taken many years to build. The World Tour is no doubt the pinnacle of the sport, but it is still road racing. Not only that, but the intricate systems and unwritten rules would require several years to learn and master. There is no guarantee that I would get it together in time to utilize my endurance engine. In essence, it would be a gamble. Currently, I approach every race on the gravel calendar with confidence in my ability. In the end, it comes down to a quality-of-life decision. It was an honor to be considered, but it would be more of a status symbol then a wise life choice for me.
What have you been up to the past month since the season has wound down?
This past month is my traditional off-season. This time last year, I was stuck at home with a broken pelvis for two months, so this year I am catching up on lots of landscaping in home improvement projects that were neglected last year due to injury. I am also working on a full travel trailer remodel, and generally fucking off. I have avoided most races, and stayed off the training aside from a few mountain bike rides per week. I find hitting the reset button process crucial for igniting the fire for the coming year. When I get back to training, I want to be excited and hungry. I am almost there.
You are one of the pioneers of this idea of running your own small team, and doing it your own way. It seems as though a lot of professional racers are starting to move this direction. What would you consider the positives and the negatives of this philosophy?
Positives: you are your own boss. You get to choose which companies you partner with, and select the equipment you want to run. You design your own race calendar, with the input of sponsors. You set your own budget, and make your own deals. You can hire riders if you want the support, or not if you prefer to keep things simple. You get to guide the aesthetic and vibe of the team, which can be an expression of yourself.
Negatives: you are your own boss. You have to find and sway the companies you partner with. You have to handle every minutia of component compatibility, availability, shipping, and building. You have to research and plan your own race calendar, and make sure your sponsors are happy with your choices. You have to run your own finances, including payroll, invoicing, taxes, etc. You will dread tax season. You have to deal with personalities, and managing them. You have to make sure you stay on top of payroll, and that you get paid. You have to plan every single logistical arrangement – travel, lodging, shipping of equipment, feedzone support if necessary. You have to design your own badass kit each year. It can't suck. If it sucks, you suck. And you look stupid.
STILL WANT TO RUN YOUR OWN PROGRAM?
Name four races that you have done this year that were ideal for the ALLROAD. And then name four races that you did this year that were ideal for the ABLE.
ALLROAD suited races: SBT Gravel, Belgian Waffle Ride, Grasshopper Series, Boulder Roubaix
ABLE suited races: Dirty Kanza 200!!!, The Rift Iceland, Oregon Trail Gravel Grinder, Rebecca's Private Idaho
---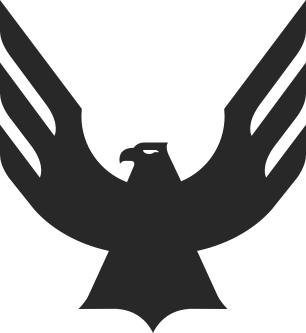 A quality human being doing unconventional things on the bike, and acting as a great ambassador for this thing we all love so much. Him being fast is just gravy. #ALLIEDfamily